SKU:

MNHJ3ZP/A

Vendor: Apple
Apple Watch Ultra 49mm Titanium Case GPS + Cellular Alpine Loop
Tax included.
Water resistance to 100 m*
Alpine Loop. Tough as trails. Light & durable.
The most rugged and capable Apple Watch ever, designed for exploration, adventure and endurance. With a 49 mm aerospace-grade titanium case, extra-long battery life[1], specialised apps that work with the advanced sensors, and a new customisable Action button.
Alpine Loop. Tough as trails. Light, durable and made from two textile layers seamlessly woven into one continuous piece without stitching. The corrosion‑resistant titanium G‑hook slips smoothly into the reinforced loops for a secure fit.

Specialised features, sensors and three new bands designed for exploration, adventure and endurance
49-mm aerospace-grade titanium case for an ideal balance of weight, strength and corrosion resistance
The largest, brightest Apple Watch display for improved legibility in all conditions
Up to 36 hours of battery life for normal use, along with low-power settings for even longer battery life

[1]

Precision dual-frequency GPS system provides accurate location for calculating distance, pace and route maps
Water-resistant to 100 metres

[2]

Greater operating temperature tolerances while on your wrist, to accommodate incredibly diverse environments
Customisable Action button can mark a Compass Waypoint, start Backtrack, mark segments in a workout, turn on the torch and more
Advanced safety features, including Siren, Backtrack, Fall Detection, Emergency SOS

[3]

and Crash Detection
Improved Workout app with new metrics, new views and advanced ways to train
A completely redesigned Compass app with waypoints and Backtrack
Depth gauge and water temperature sensor activates automatically when you submerge
Made for recreational scuba diving and free diving down to 40 metres

[4]

Included cellular lets you stay connected to people and information you care about most

[5]

Advanced health sensors let you take an ECG

[6]

and measure heart rate, track temperature changes

[7]

for insights into menstrual cycles

[8]

and measure blood oxygen

[9]

Track your daily activity on Apple Watch, and see your trends in the Fitness app on iPhone
Stream or sync your favourite music, podcasts and audiobooks
Make purchases instantly and securely from your wrist with Apple Pay

[10]

watchOS 9 features an enhanced Workout app, a new Medications app, sleep stages and greater insights into heart health
Apple Watch comes with three months of Apple Fitness+, featuring 11 different workout types, from HIIT to Yoga, and even meditations

[11]

 
Features
Looks tough. Because it is.
To build the ultimate sports watch, we crafted every element with painstaking attention to detail for unparalleled performance. Titanium strikes the perfect balance between weight, ruggedness and corrosion resistance. The new case design rises up to surround the flat sapphire crystal and protect it from edge impacts. The Digital Crown is larger and the side button is raised from the case, making them easier to use while you're wearing gloves.
The biggest and brightest Apple Watch display.
The Always‑On Retina display is 2,000 nits at its peak and twice as bright as any other Apple Watch. The bigger display provides more room for workout metrics and detail‑packed watch faces. The Wayfinder face lets you rotate the Digital Crown to activate Night Mode for better viewing in lowlight situations.
Ready for Action.
The new Action button gives you quick, physical control over a variety of functions. It's customisable and can do things like control a workout, mark a Compass Waypoint or begin a dive. Just like you, it's full of potential.
Everything in its place.
An essential and versatile tool that fits on your wrist, Apple Watch Ultra packs incredible capability into a surprisingly small space.
Battery life for days.
When you're on the second day of a backpacking trip, the final leg of a triathlon or diving along a coral reef, the last thing you want to think about is running out of battery. With longer battery life than ever, you can take on almost anything and have energy to spare.1
Up to 36hrs of normal use1
Up to 60hrs on low power settings
Find strength in numbers.
Making progress as an athlete requires accurate data and insights. Updates to the Workout app like new metrics and views give you all the information you need to be and beat your best. The larger display lets you see up to six metrics at once.
GPS that's truly trailblazing.
GPS performance is critical for athletes who want the most precise metrics, whether they're training in urban streets or out in the wild. Apple Watch Ultra features a new precision dual-frequency GPS system that provides amazing accuracy in the most difficult locations.

The GPS dilemma. For most people, a traditional GPS solution with just L1 GPS works well most of the time. But it can be tricky when tall buildings, trees or dense foliage block satellites. The newer L5 GPS enables advanced signal processing, reducing many errors and providing a more consistent signal in environments like dense cities.
Two frequencies. One precise solution. Apple Watch Ultra integrates both L1 and L5 GPS into a new antenna design, for greater range with incredible power efficiency. It combines data from these two frequencies to provide amazingly accurate distance, pace and route calculations.

The most accurate GPS in dense urban environments. The dual-frequency system combines with Apple Maps to include road, bike and trail routes that better identify actual locations. Accuracy is boosted by new satellite and signal models. And a customised, advanced algorithm makes optimal use of available satellite signals.

Designed to take on extreme environments, elevations and temperatures, Apple Watch Ultra is an essential exploration tool that can take you everywhere. And help get you home.
The compass re-imagined.
An accurate compass is as crucial for navigating the wild as a solid pair of boots. The redesigned Compass app delivers all‑new views and functionality that take wrist‑driven orienteering to new heights.
More information with every turn. Start with a classic compass dial along with a constantly updating digital view of your bearing and direction. Zoom in by turning the Digital Crown and you'll see more on the giant display: elevation, incline, longitude and latitude.
Compass Waypoints mark the spot. Quickly and easily mark your location with Compass Waypoints. Tap the icon to drop a waypoint on a trailhead, campsite or point of interest. Name your waypoints, give them icons and colour‑code them to stay organised.
Backtrack. Retrace your steps. To help you return to where you came from, or simply get back on track, the Backtrack uses GPS to automatically create a path of where you've been ― even if you're off the grid. So you can easily get to a previous location or all the way back down the mountain.
Action button. Make your mark. Find your way. A single press of the Action button can quickly drop a Compass Waypoint at your location or immediately start Backtrack, so you can focus on the journey ahead or behind you.
86-decibel Siren.
Sonic salvation. If you get lost or injured and need to attract attention, hold the Action button to activate a Siren that can be heard up to 180 metres away.
Up to 60 hours
On low power settings for days full of adventure.6
-20° C to 55° C
On-wrist operating temperature that can endure chilly mountaintops or searing desert heat.7

Specifications
Apple Watch Ultra

49-mm titanium case
Action button
Digital Crown with haptic feedback
Side button
Dual speakers
Three-microphone array
S8 SiP with 64-bit dual-core processor
Display:
Always-On Retina LTPO OLED
Flat sapphire crystal display
Up to 2,000 nits brightness
Sensors:
Depth gauge ±1-metre accuracy
Water temperature sensor
Temperature sensing
Blood oxygen sensor and app
Electrical heart sensor and ECG app
Third-generation optical heart sensor
High- and low-heart-rate notifications
Irregular rhythm notification
Compass
Always-on altimeter
Safety:
Emergency SOS
International Emergency Calling
Siren
Crash Detection
Fall Detection
Splash, Water and Dust Resistance:
Water resistance to 100 m
Dust resistance IP6X
EN13319 recreational scuba diving to 40 m
Tested to MIL-STD 810H: altitude, high temperature, low temperature, temperature shock, immersion, freeze with thaw, ice and freezing rain, shock and vibration.
Connectivity and Communication:

Precision dual-frequency GNSS: GPS, GNSS, Galileo, BeiDou
4G LTE and UMTS
802.11b/g/n 2.4GHz and 5GHz
Bluetooth® 5.3
U1 chip (Ultra Wideband)14
Storage Capacity:
32GB
Environmental Requirements:
On-wrist operating temperature: –20°C to 55°C (–4°F to 130°F)15
Operational Temperature (Boot/Charge): 0°C to 35°C (32°F to 95°F)15
Non-operational storage temperature: –20°C to 45°C (4°F to 113°F)15
Dive operating temperature: 0°C to 40°C (32°F to 104°F)15
Relative Humidity: 5% to 90% noncondensing15

Dimensions

Height: 49 mm
Width: 44 mm
Depth: 14.4 mm
Case Weight: 61.3 g
Apple Watch Series 8 and Apple Watch SE have a water resistance rating of 50 metres under ISO standard 22810:2010. This means that they may be used for shallow-water activities like swimming in a pool or ocean. However, they should not be used for scuba diving or waterskiing, or other activities involving high-velocity water or submersion below shallow depth. Water resistance is not a permanent condition and can diminish over time. For additional information see

 

support.apple.com/en-au/HT205000. Series 8 is also rated IP6X dust-resistant.
Apple Watch Ultra has a water resistance rating of 100 metres under ISO standard 22810. It may be used for recreational scuba diving (with a compatible third-party app from the App Store) to 40 metres, and high-speed water sports. Apple Watch Ultra should not be used for diving below 40 metres. Water resistance is not a permanent condition and can diminish over time. For additional information see

 

support.apple.com/en-au/HT205000.
The internationally recognised standard for dive computers and gauges.
Tested against subsections for Altitude, High Temperature, Low Temperature, Temperature Shock, Immersion, Freeze/Thaw, Shock, Vibration.
Blood Oxygen app measurements are not intended for medical use, including self-diagnosis or consultation with a doctor, and are only designed for general fitness and wellness purposes.
The ECG app is available on Apple Watch Series 4 and later (not including Apple Watch SE) with the latest version of iOS and watchOS. See

 

apple.com/au/watch

 

for compatibility details. ECG is not intended for use by people under 22 years old. With the ECG app, Apple Watch is capable of generating an ECG similar to a single-lead electrocardiogram. Sinus rhythm is a form of cardiac rhythm. An irregular sinus rhythm may indicate atrial fibrillation.
Irregular rhythm notification requires the latest version of watchOS and iOS. It is not intended for use by people under 22 years old or those who have been previously diagnosed with atrial fibrillation. Always follow instructions for use. The device is not intended to replace traditional methods of diagnosis. Consult a doctor if atrial fibrillation is detected or if you have symptoms of a heart attack, stroke or other cardiovascular conditions.
The temperature sensing feature is not a medical device and is not intended for use in medical diagnosis, treatment or any other medical purpose.
The Cycle Tracking app is not intended for use in medical diagnosis, treatment or any other medical purpose, including as a form of birth control or to support conception.
Emergency SOS requires a mobile network connection or Wi-Fi calling with an internet connection from your Apple Watch or nearby iPhone.
The international emergency calling feature requires an Apple Watch Ultra (Cellular), Apple Watch Series 8 (GPS + Cellular), Apple Watch Series 7 (GPS + Cellular) or Apple Watch SE (GPS + Cellular) model. For a list of supported countries and regions, see

 

apple.com/au/watchos/feature-availability.
Carrier plan required for cellular service. Contact your service provider for more details. Connection may vary based on network availability. International roaming is not supported. Check

 

apple.com/au/watch/cellular

 

for participating carriers and eligibility. See

 

support.apple.com/en-au/HT207578

 

for additional setup instructions.
Not all features will be available if the Apple Watch is set up through Family Setup. Carrier plan required for cellular service. Contact your service provider for more details. Check

 

apple.com/au/watch/cellular

 

for participating carriers and eligibility.
Ultra Wideband availability varies by region.
Battery and performance may be affected at very low temperatures.
Apple Watch Series 8 and Apple Watch Ultra are rated IP6X dust-resistant.
View full details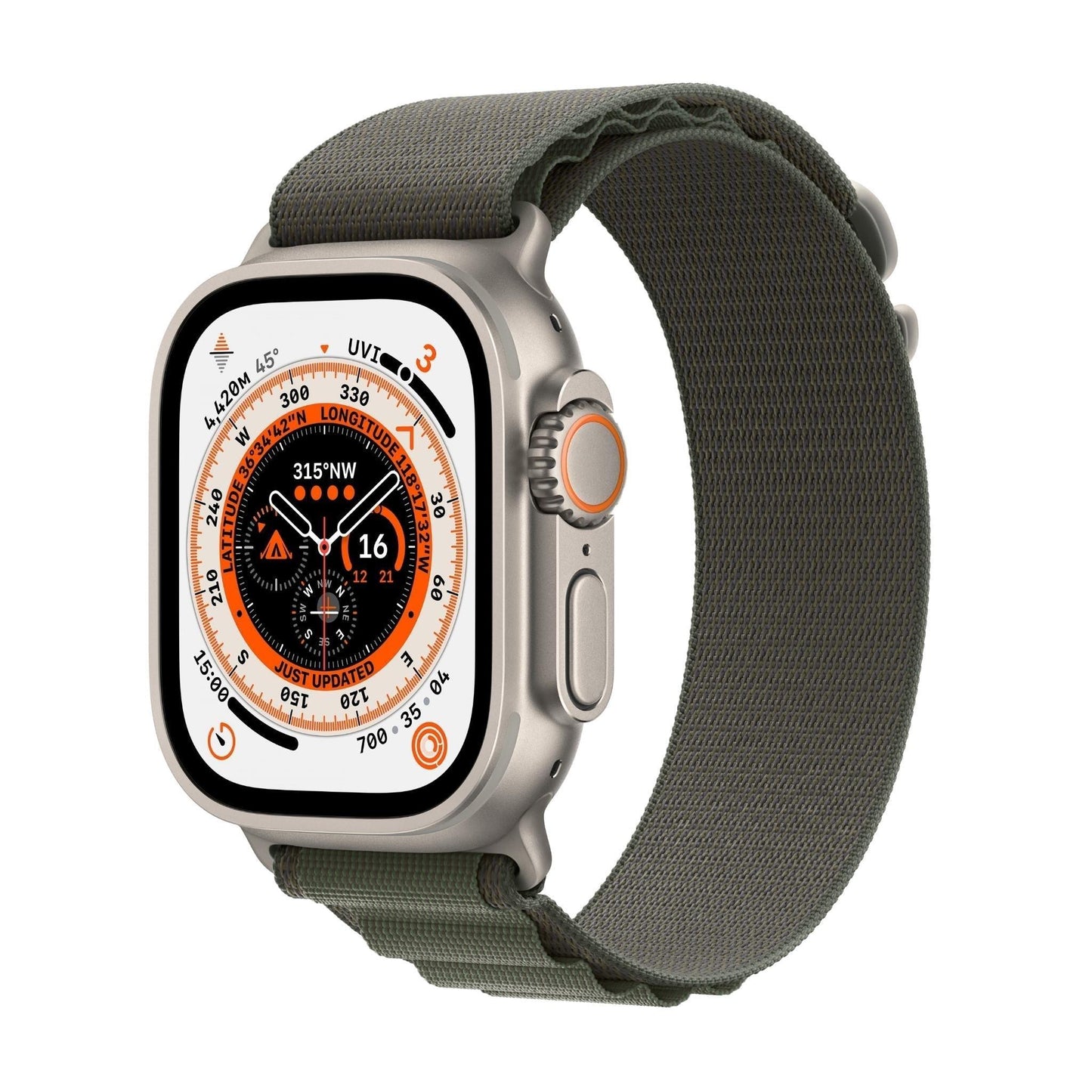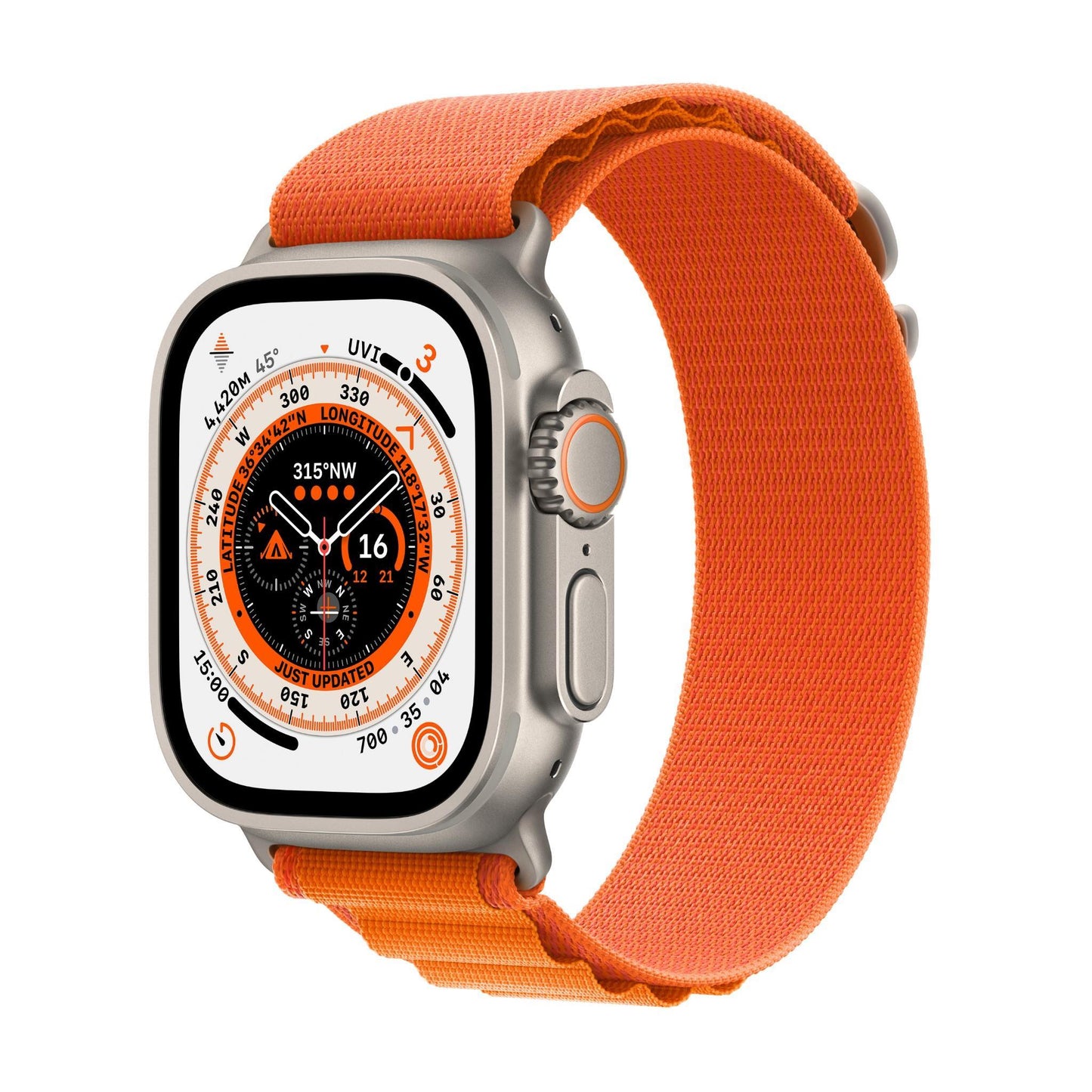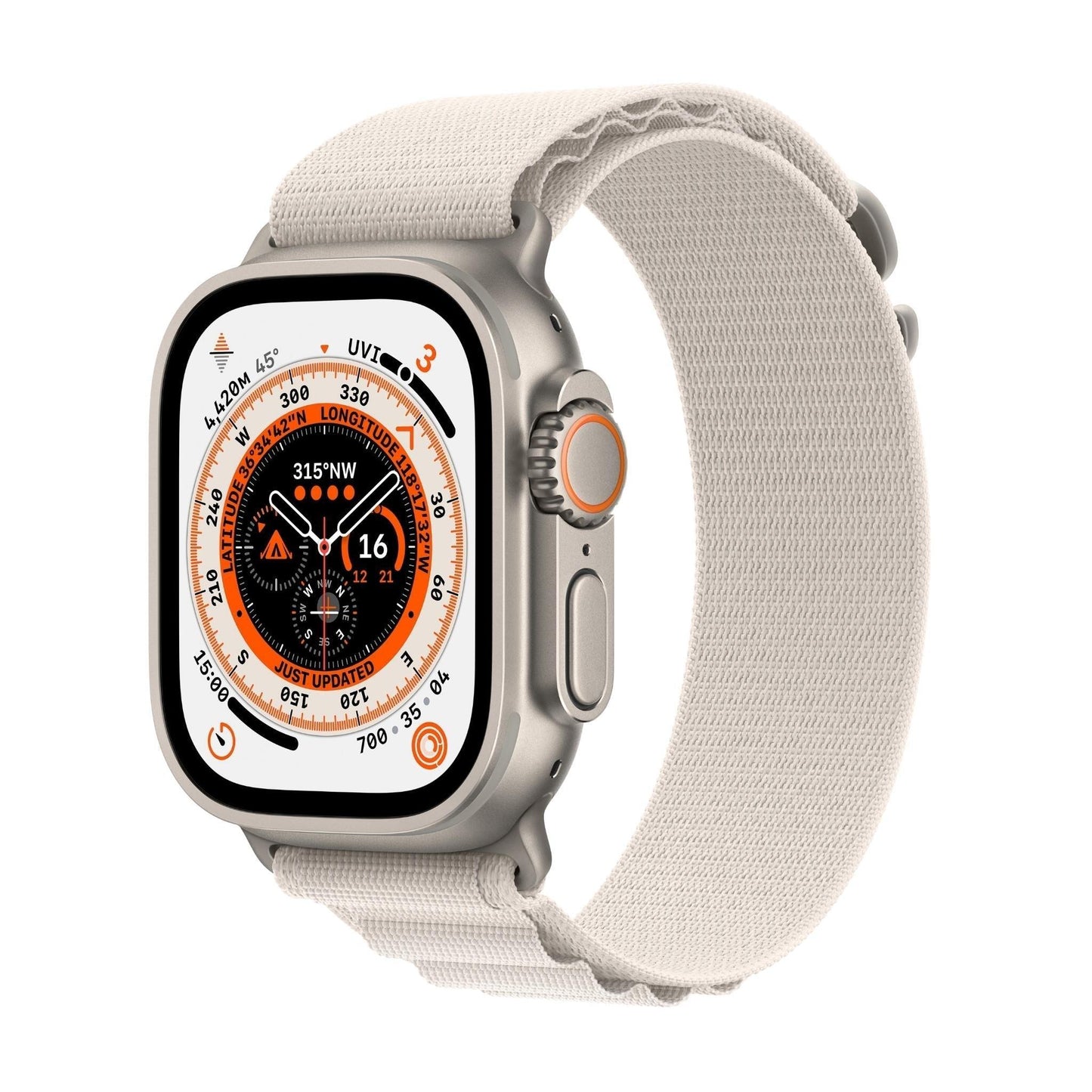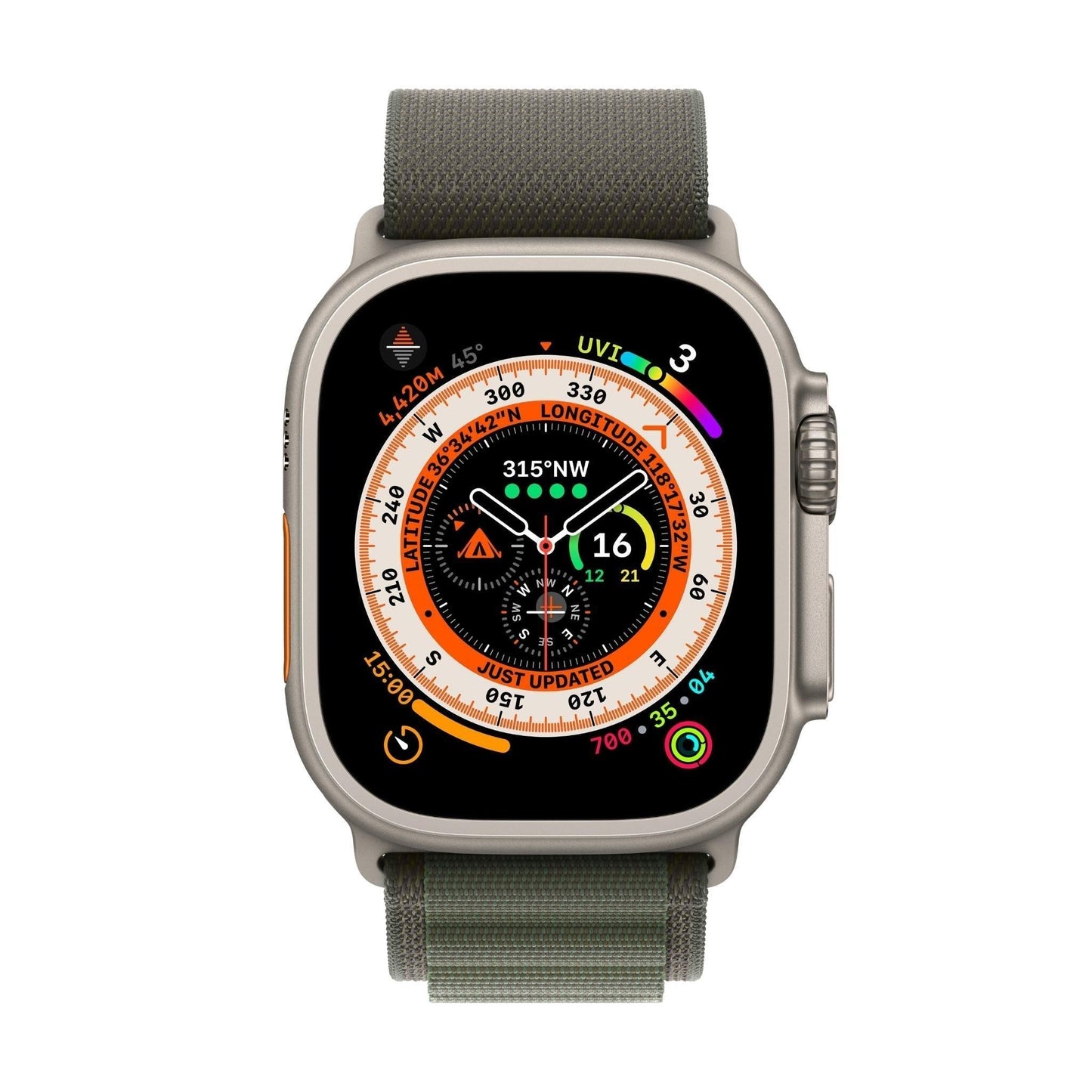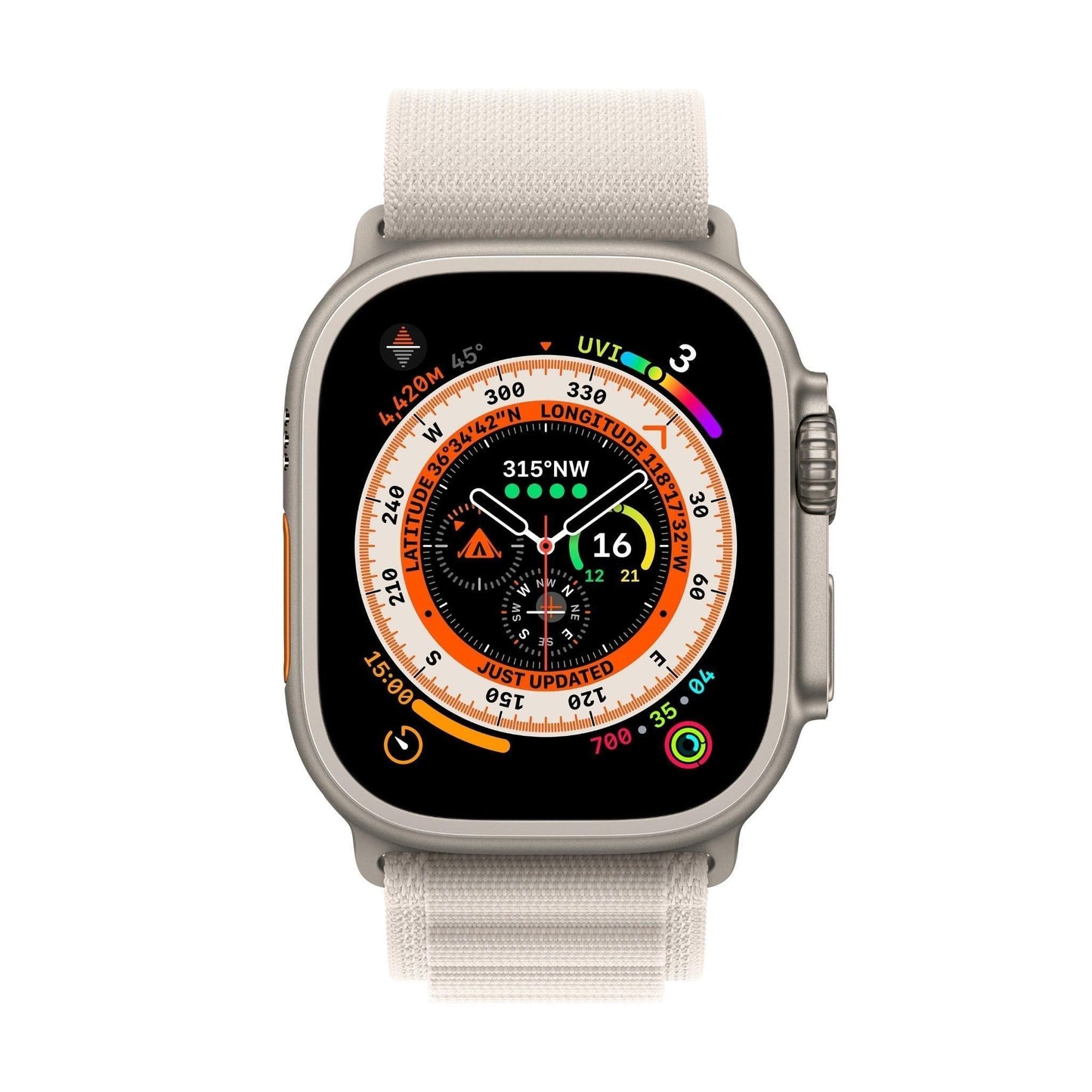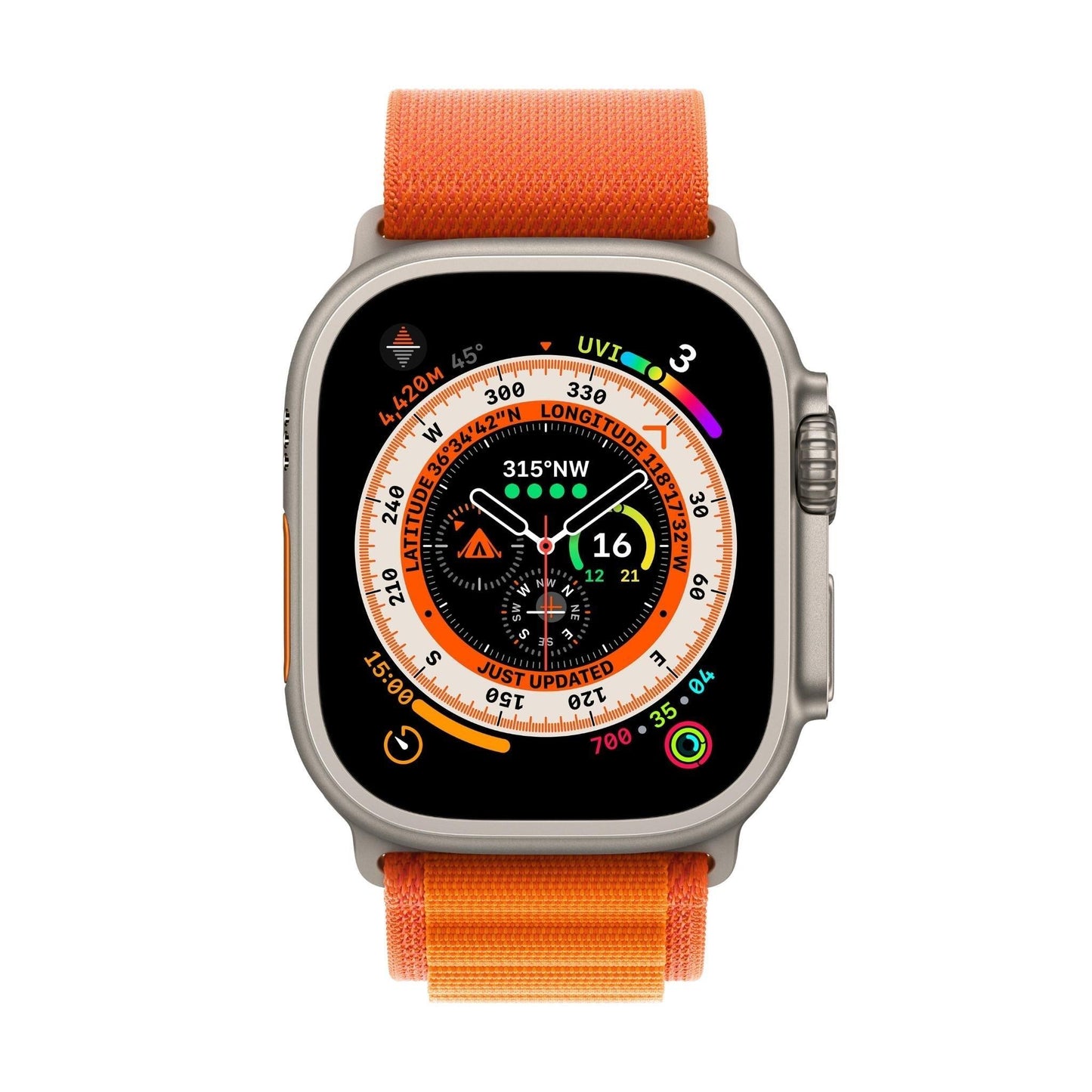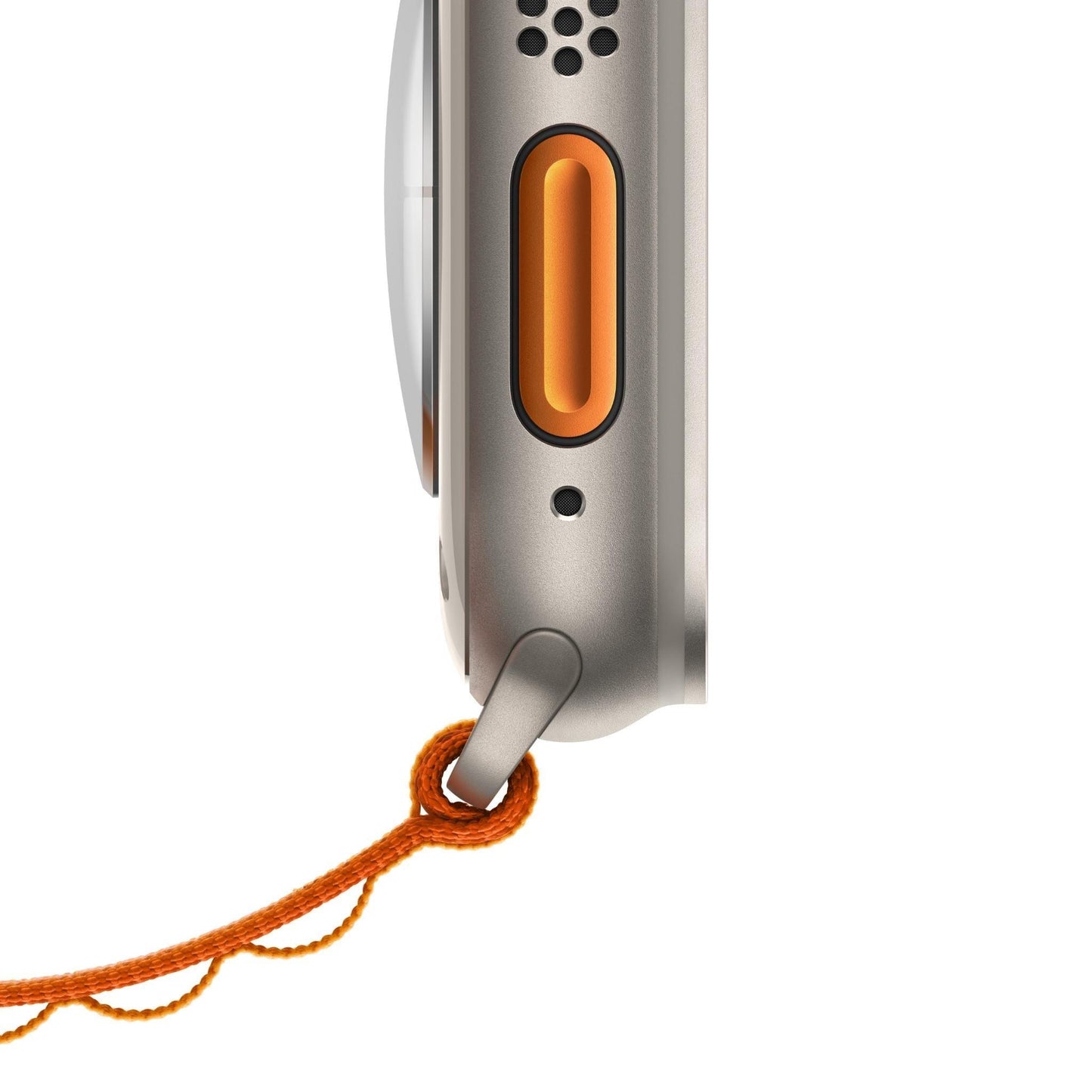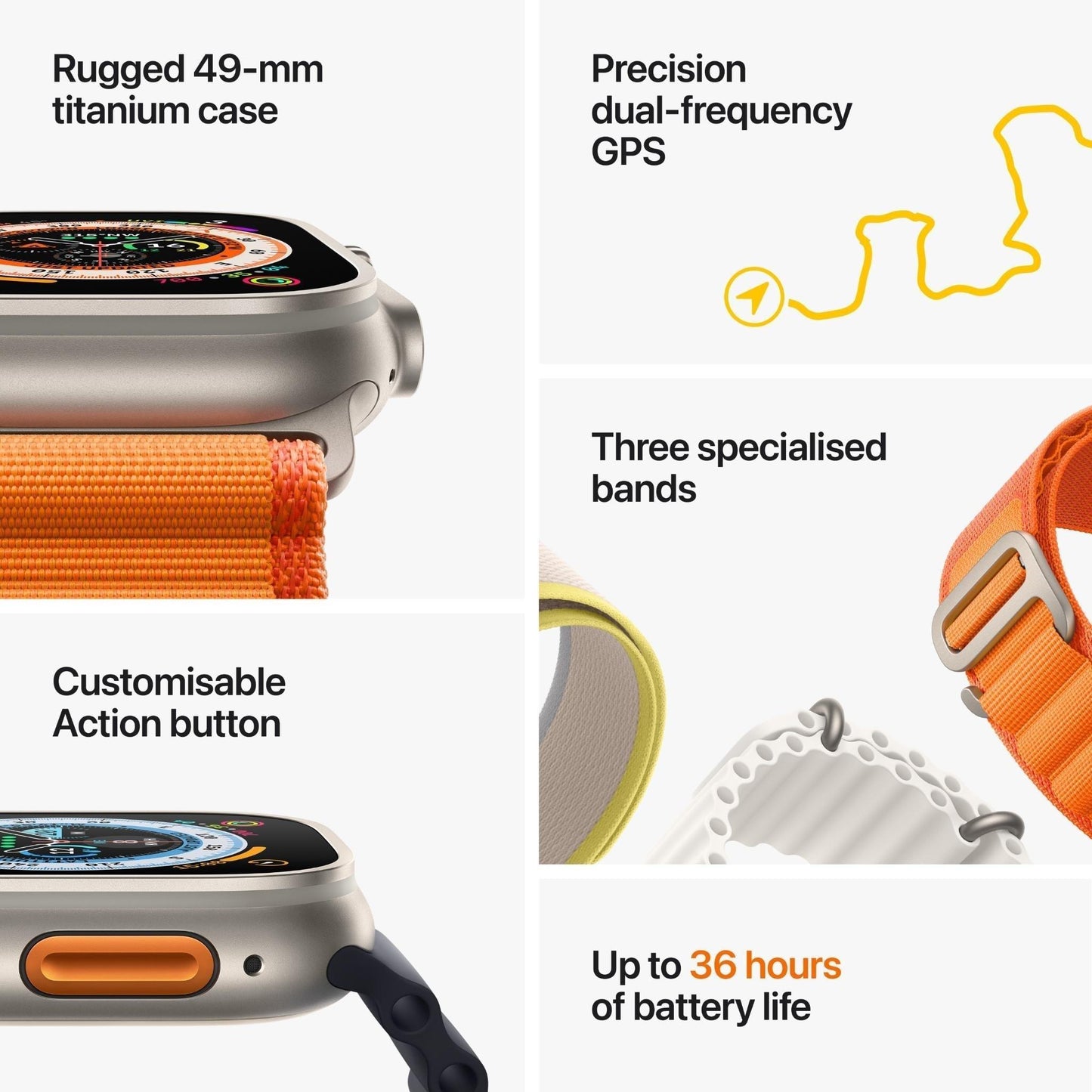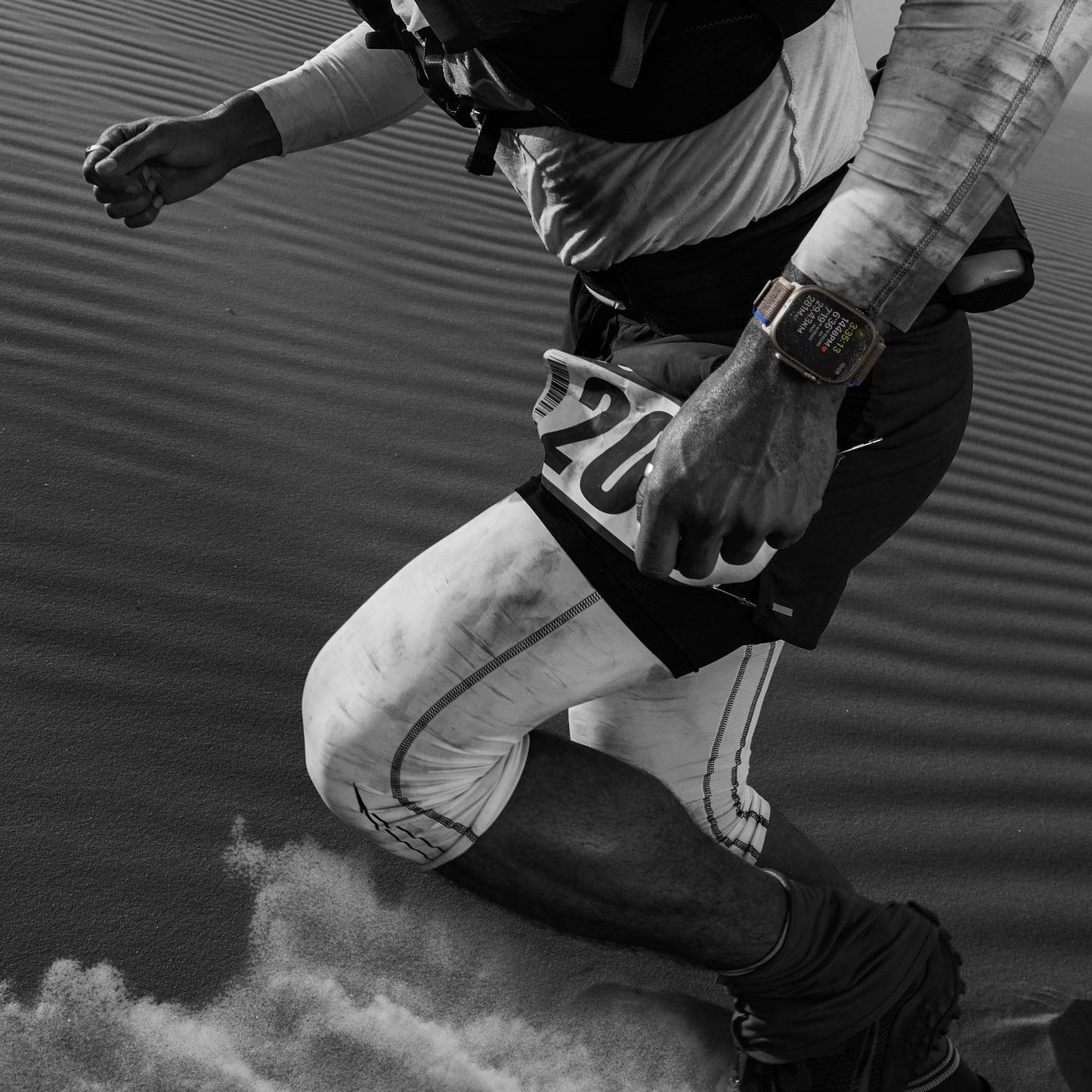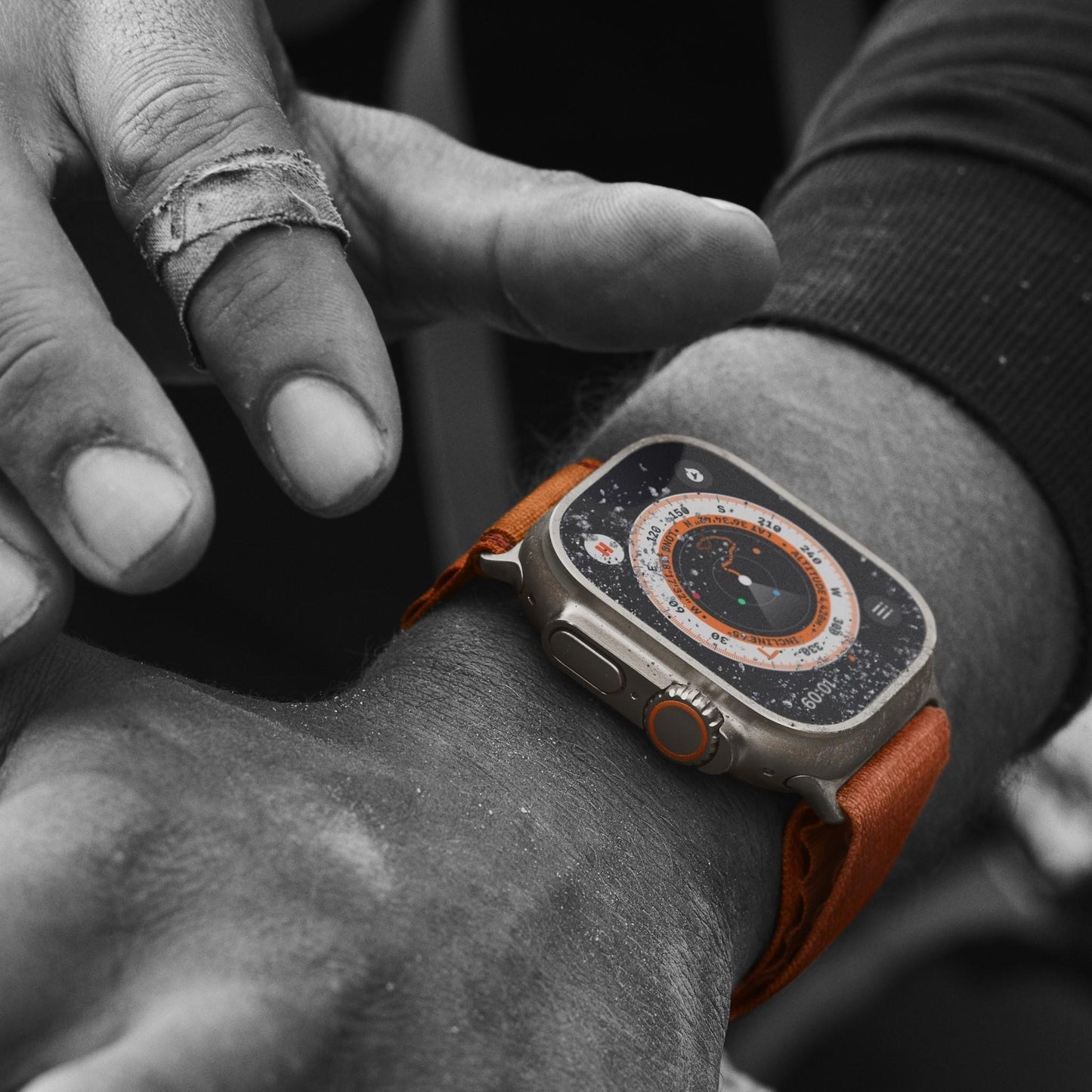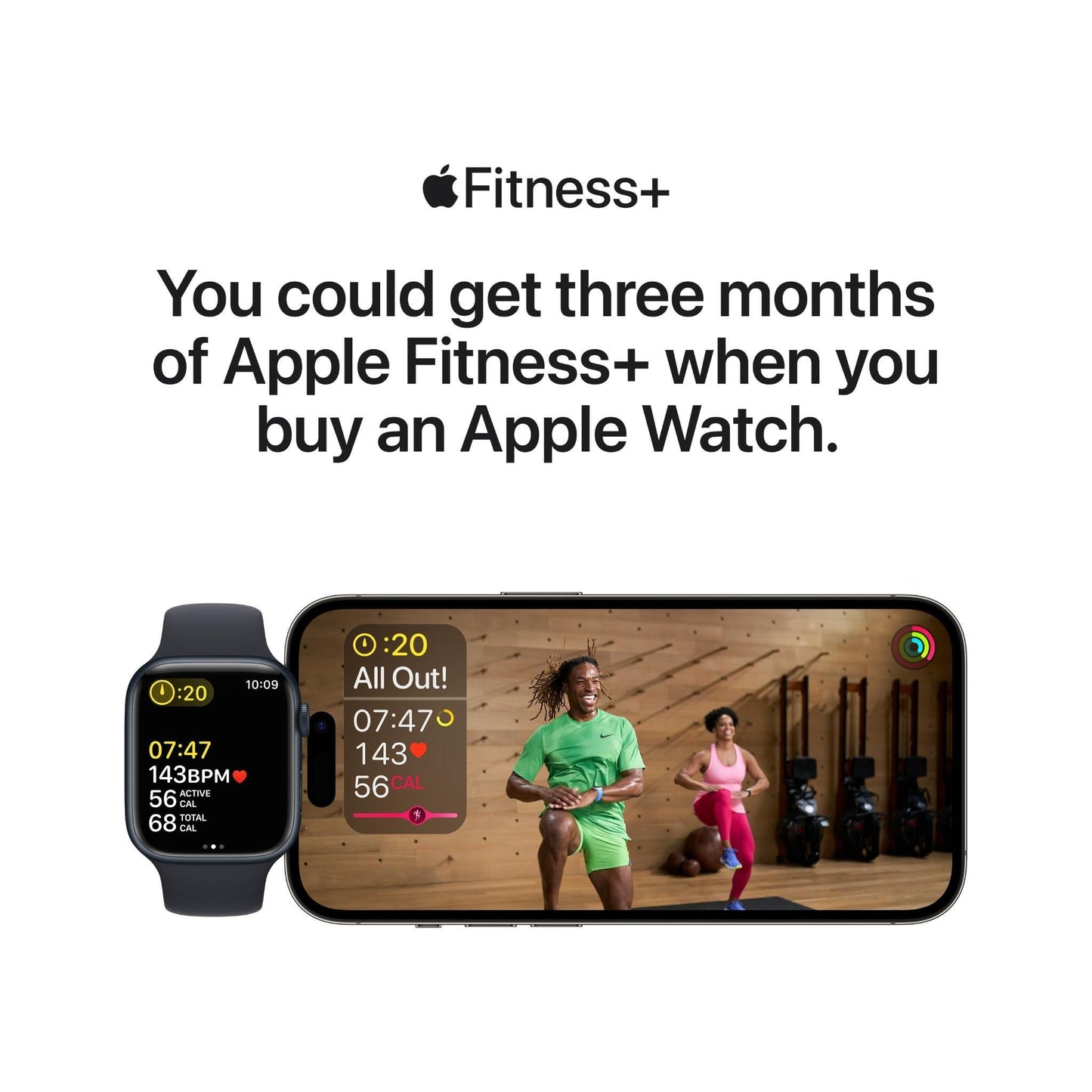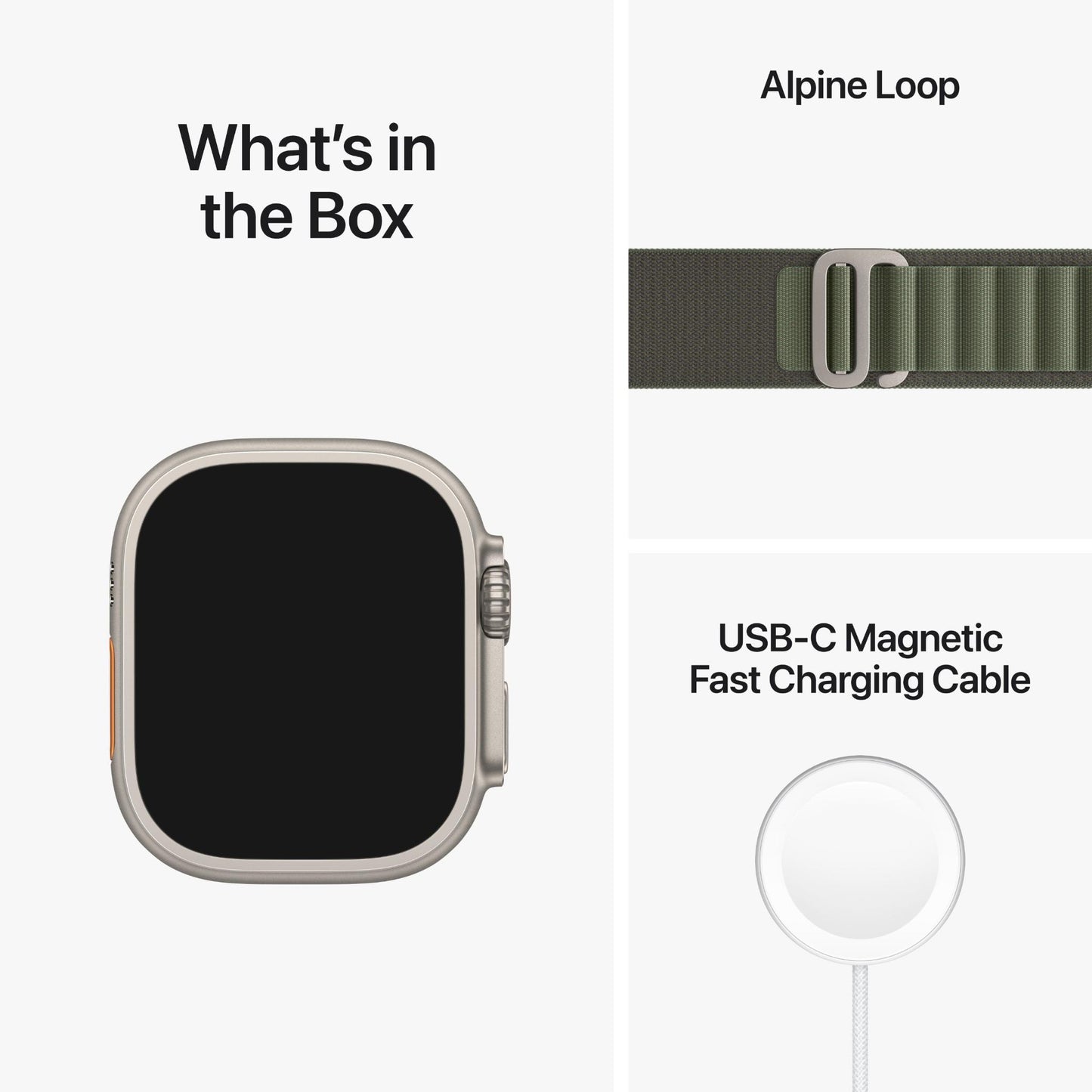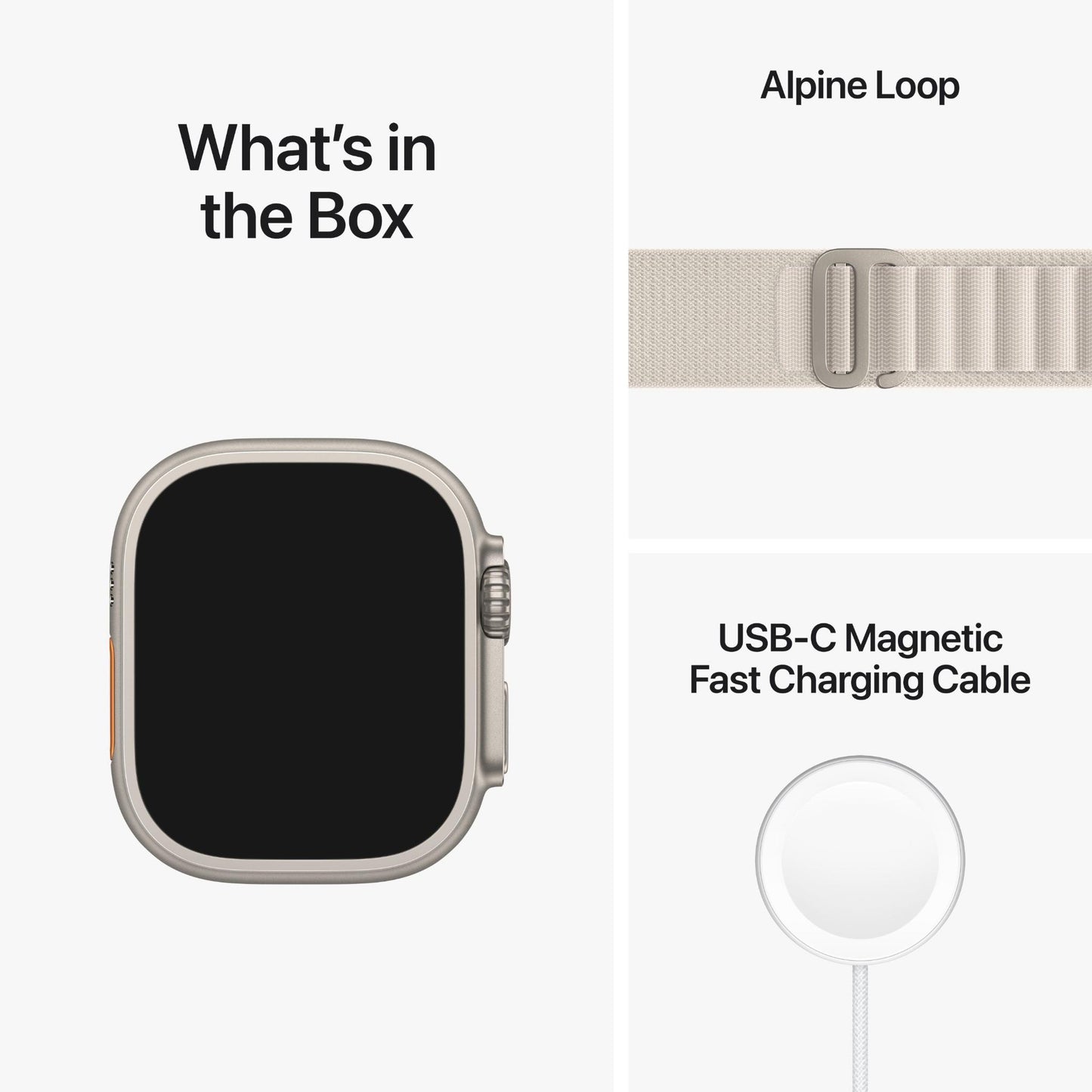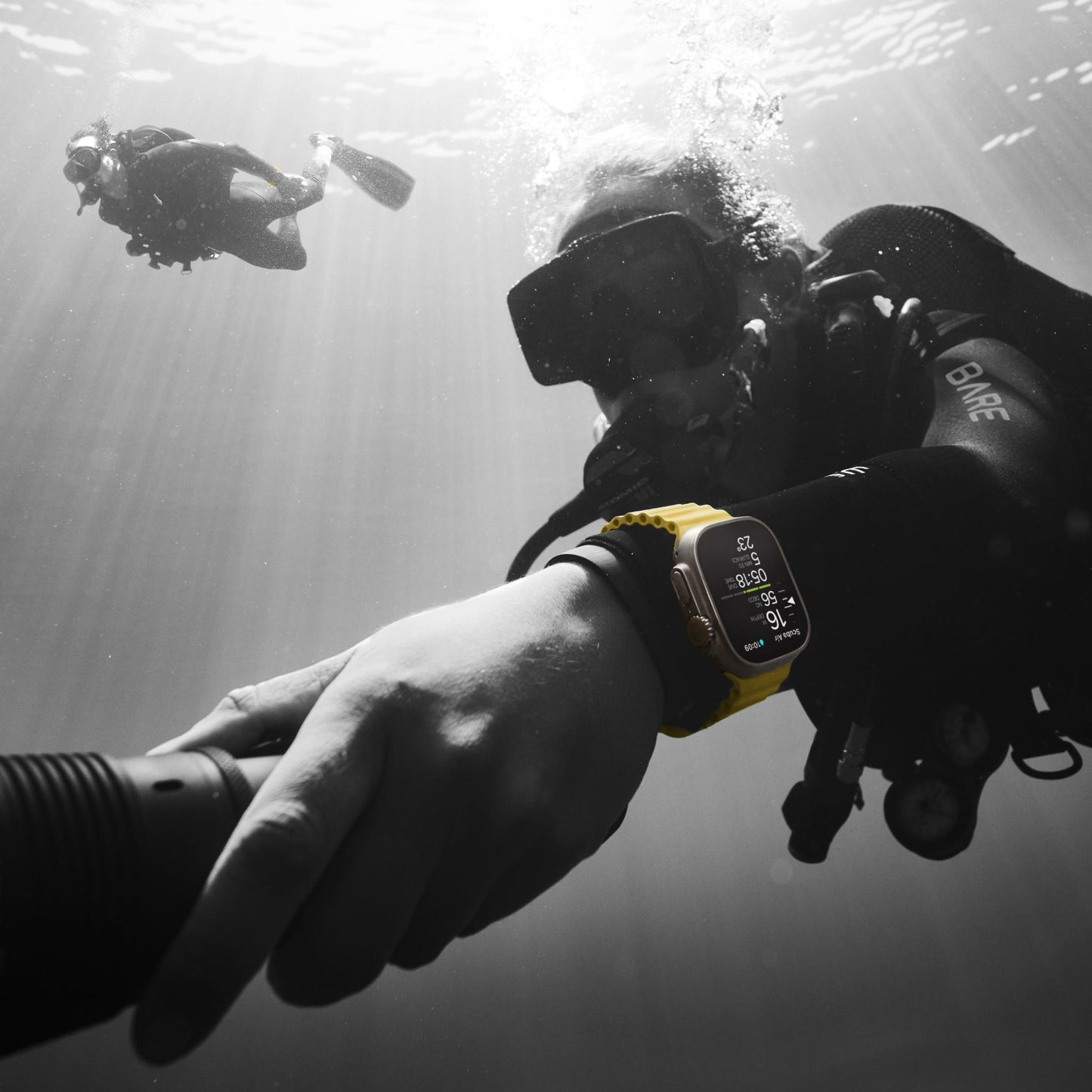 Apple Watch Ultra 49mm Titanium Case GPS + Cellular Alpine Loop