SKU:

INC003AUBK

Vendor: Belkin
Belkin 14-Port USB-C Docking Station, 65W (Chromebook Certified)
Tax included.
Multiple Monitors, Multiple Ports
Create your workspace with a docking station that expands your connections for the office, home office, or classroom. Our USB-C docking station allows you to connect up to two extended monitors through HDMI or DisplayPort to your Chromebook.
Connect your laptop to multiple monitors,* supports resolution up to 4K
Works With Chromebook
Not recommended for Mac users.
65W Pass-Through USB-C Power Delivery
Ports: 2x HDMI 2.0, 2x DisplayPort 1.4, 1x USB-C (MFDP) port, 5x USB-A, 2x USB-C (1x upstream, 1x downstream), 1x Gigabit Ethernet
3.5mm combination in/out audio jack
Connect up to 3 displays on select Windows host devices with MST capabilities
Features
This 14-port docking station offers up to 65W of pass-through power and 10 Gbps data transfer speeds, giving you the ability to connect and work while charging your laptop. You can connect an external hard drive, mouse, keyboard, headphones, and other peripherals to the USB-C dock while reducing desktop clutter with a single cable connection to your USB-C laptop. It's Works With Chromebook Certified, with the ability to install firmware updates directly through Chrome OS for an enhanced connectivity experience. Plus, it's TAA compliant for use in a wide range of government applications.
Your essential devices can connect to a single docking station for power and ease of use. Ports include:

Power button, Lane Mode Switch
USB-C 3.1 Gen 2 10Gbps (connection to laptop)
Audio In/Out
USB-A 3.1 Gen 2 10Gbps port with BC 1.2 and Apple Charge 2.4A
USB-C 3.1 Gen 2 10Gbps
2 x USB-A 480Mbps 5V/0.5A
2 x USB-A 3.1 Gen 2 10Gbps
Gigabit Ethernet
USB-C (MFDP) 10Gpbs 5V/1.5A
2 x DisplayPort 1.4
2 x HDMI 2.0
Power jack
Up to 4K Resolution
View everything in high definition and work on multiple applications across your screens. This USB-C dock allows your laptop to connect to up to three monitors* simultaneously on select host devices with MST capabilities so you can enjoy sharper-looking, more detailed images, and visualize content across extended displays. Monitor resolutions up to 4K are supported.
65W of USB-C Power Delivery 3.0
Power Delivery 3.0 delivers an efficient, simultaneous pass-through charge up to 65W to your laptop and multiple accessories while working, streaming, or gaming. Plus, USB-C PD 3.0 technology keeps you connected to devices even when your power source becomes disconnected.
Works With Chromebook Certified**
This USB-C dock is part of our portfolio of Chrome-certified products. All our Works With Chromebook products have gone through extensive testing and are proven to meet Chromebook compatibility standards. You can be assured it's a docking station that'll work seamlessly with your Chromebook, with the ability to install any needed firmware updates directly. Not recommended for Mac users.
Specifications


Ports
Ports: 2x HDMI 2.0, 2x DisplayPort 1.4, 1x USB-C (MFDP) port, 5x USB-A,   2x USB-C (1x upstream, 1x downstream), 1x Gigabit Ethernet
External Display
Single monitor support
DP1.2 High Bit Rate 2
Laptop running High Bit Rate 2:
4K (3840x2160) @ 60Hz
DP1.4 High Bit Rate 3
Laptop running High Bit Rate 3:
4K (3840x2160) @ 60Hz
DP1.4 High Bit Rate 3 DSC
Laptop running High Bit Rate 3 (DSC):
4K (3840x2160) @ 60Hz
External Display
Dual monitor support
DP1.2 High Bit Rate 2
Laptop running High Bit Rate 2:
Full HD (1920x1080) @ 60Hz
DP1.4 High Bit Rate 3
Laptop running High Bit Rate 3:
2K (2560x1440) @ 60Hz
DP1.4 High Bit Rate 3 DSC
Laptop running High Bit Rate 3 (DSC):
4K (3840x2160) @ 60Hz
External Display
Triple monitor support
DP1.2 High Bit Rate 2
Laptop running High Bit Rate 2:
Full HD (1920x1080) @ 60Hz
DP1.4 High Bit Rate 3
Laptop running High Bit Rate 3:
Full HD (1920x1080) @ 60Hz
DP1.4 High Bit Rate 3 DSC
Laptop running High Bit Rate 3 (DSC):
4K (3840x2160) @ 30Hz
Dimensions
29mm / 1.14"
210mm / 8.27"  
80mm / 3.15"

What's Included

Package includes
USB-C Docking Station 14-Port 
135W PSU
USB-C to USB-C Cable (1M)
View full details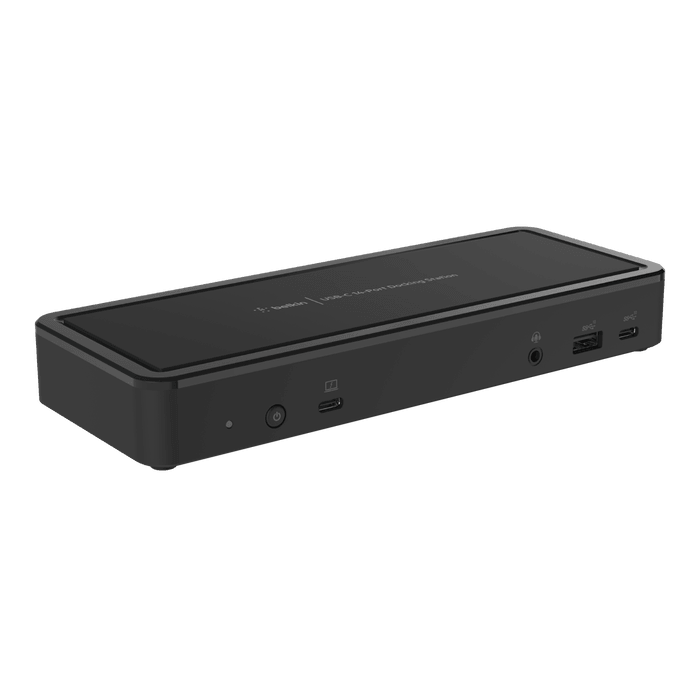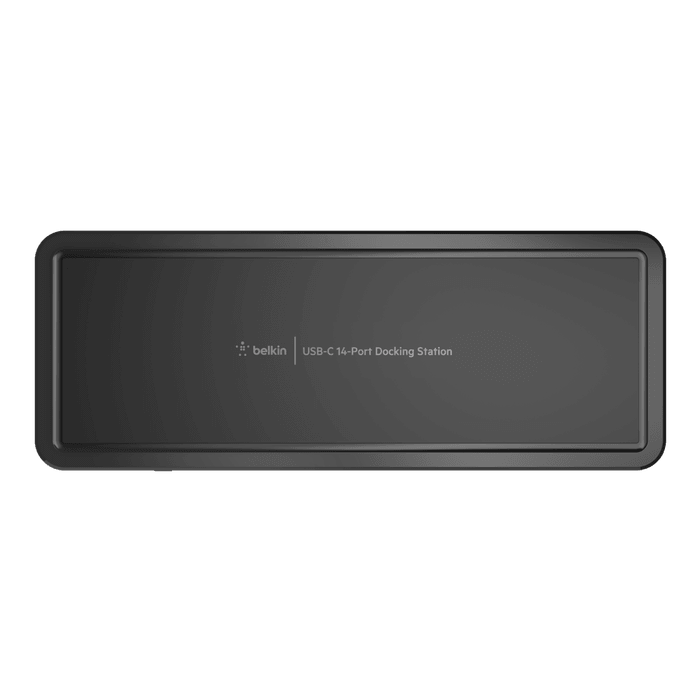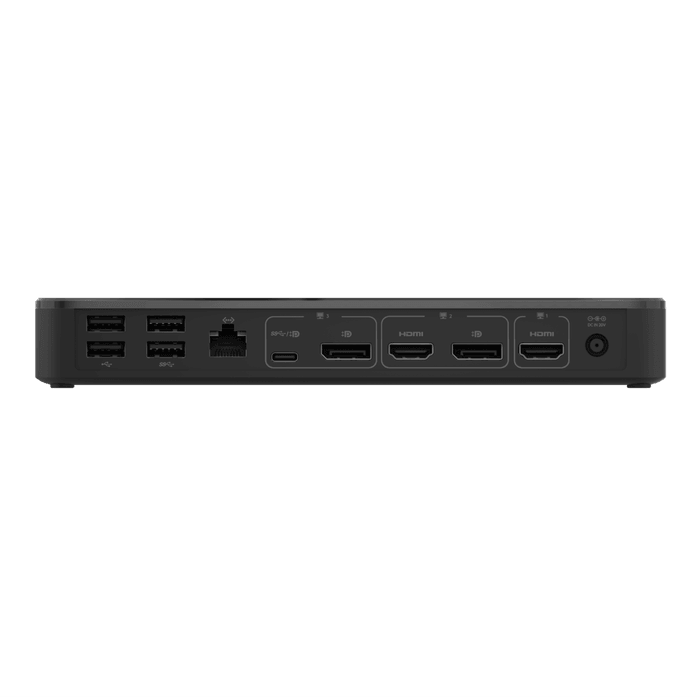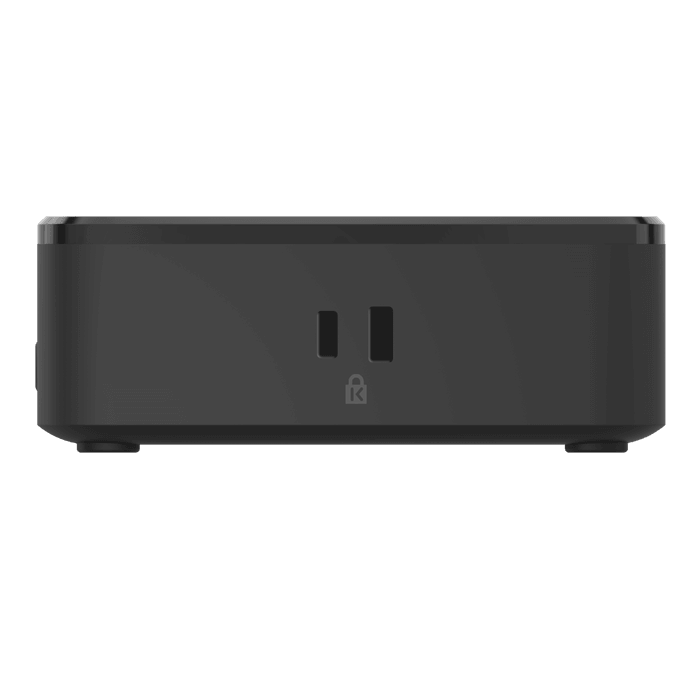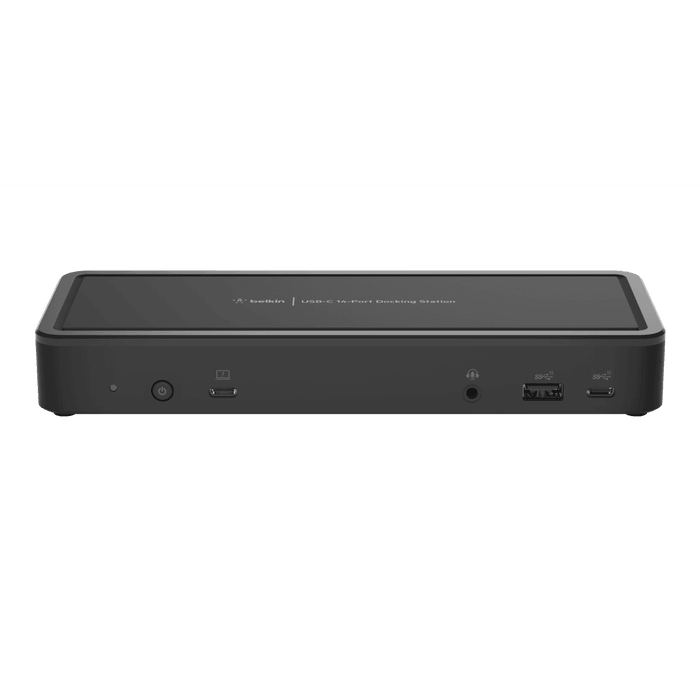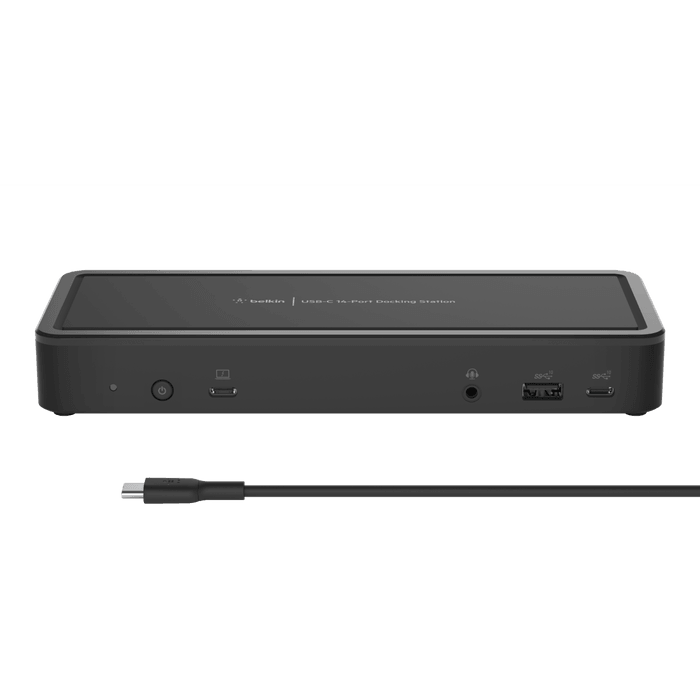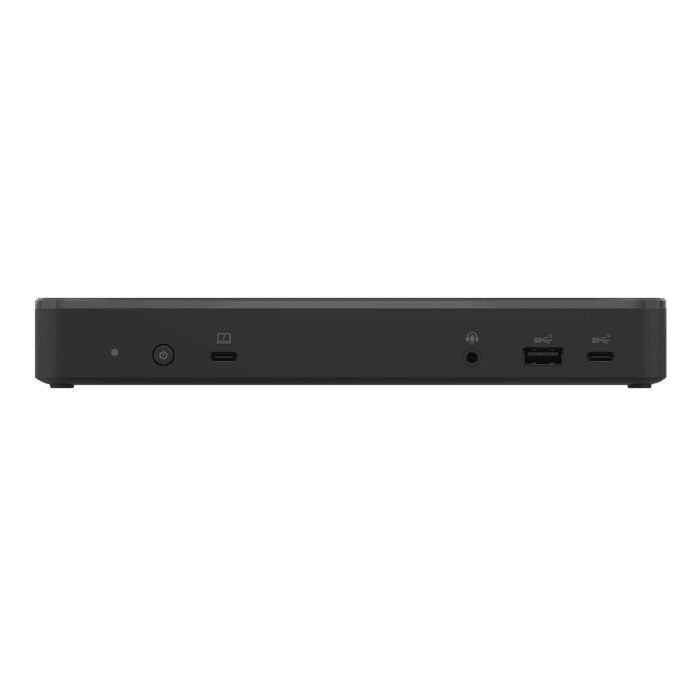 Belkin 14-Port USB-C Docking Station, 65W (Chromebook Certified)