SKU:

INC004btSGY

Vendor: Belkin
Belkin USB-C 11-in-1 Multiport Dock
Tax included.
Connect to multiple devices at the same time
Expands USB-C port into an HDMI port, DisplayPort, VGA port, 3 USB-A ports, Gigabit Ethernet port, SD and MicroSD card readers, 3.5mm audio port, and USB-C PD port
Supports passthrough charging up to 100W
Compact design with rear-facing ports
Doubles as a laptop stand
Turn your USB-C laptop into the ultimate workstation with our USB-C 11-in-1 Multiport Dock.
This all-in-one solution gives you access to ports that newer laptops have eliminated in the recent years, allowing you to connect to monitors, SD cards, thumb drives, and more through its USB-C port. It supports pass-through charging up to 100W so you don't have to choose between port expansion and power.
This docking station gives you up to 5 Gbps of bandwidth between connected devices and your laptop while supporting high-definition display resolutions up to 4K through HDMI, DisplayPort, and VGA video ports. Plus, with its Gigabit Ethernet port, you'll always have a safe and secure internet connection.
Features
100W Pass-through Power
Supports pass-through charging up to 100W, minus 15W for the dock's operation*. Power your laptop without sacrificing power for port expansion.
Doubles as a Stand
Our compact 11-in-1 docking station doubles as a laptop stand so you can create the ultimate workstation without giving up desk space. Plus, all the ports are located in the back for easy access and use.
Up To 5 Gbps Data Transfer
Turn up the bandwidth. Get 5 Gbps data transfer between your computer and peripheral devices with our USB-C 11-in-1 Multiport Dock.
Get the Connections You Need
Get up to 4K resolutions on multiple displays with HDMI, DisplayPort, and VGA video ports.
3.5mm audio in/out
VGA port
SD 3.0 card reader
MicroSD 3.0 card reader
Gigabit Ethernet port
USB-A 3.0 BC1.2 ports
USB-A 2.0 port
4K DisplayPort 1.2
4K HDMI 1.4
USB-C PD port
**MacOS supports SST (Single Stream Transport) only to offer mirror displays
MacBook 12" models introduced in 2015, 2016, 2017 have only one single USB-C port
Not compatible with MacBooks - M1 (2020)
What's Included
USB-C 11-in-1 Multiport Dock
Specifications
260 mm / 10.2 in
90 mm / 3.5 in
23 mm / 0.9 in
162 mm / 6.4 in
Weight: 348.8 g / 0.8 lb
View full details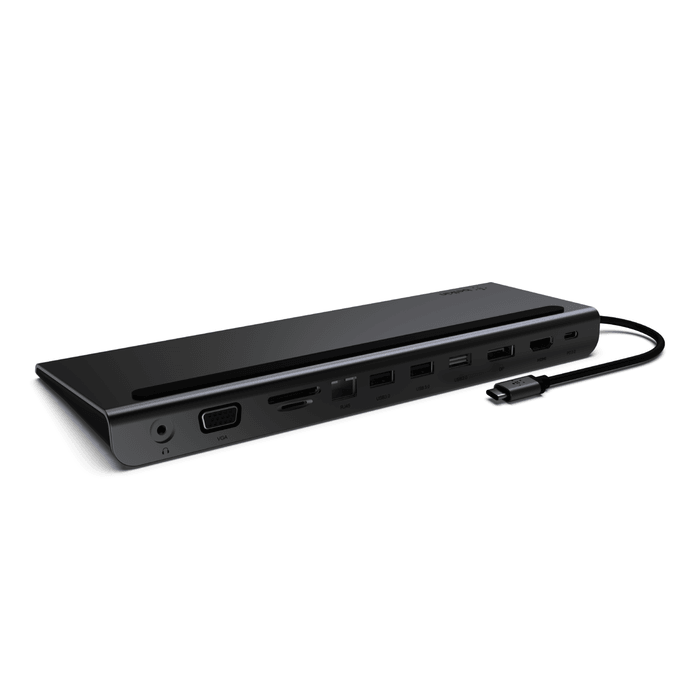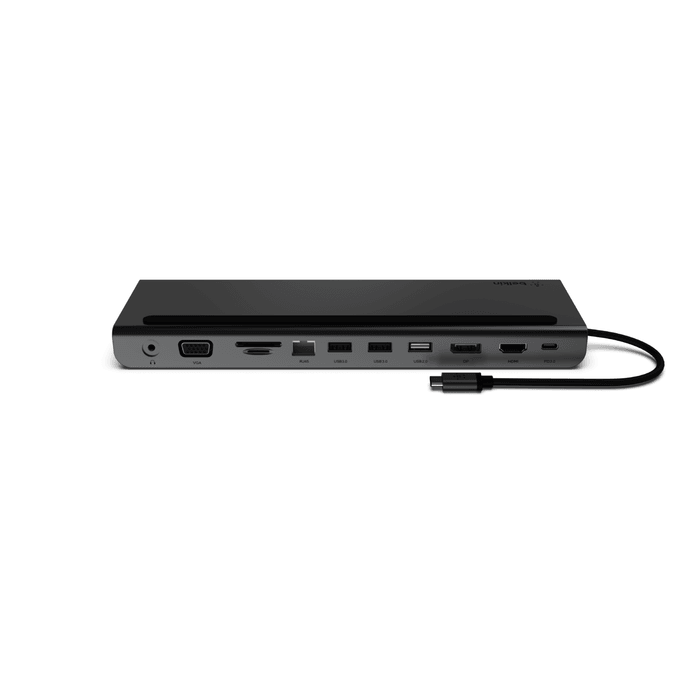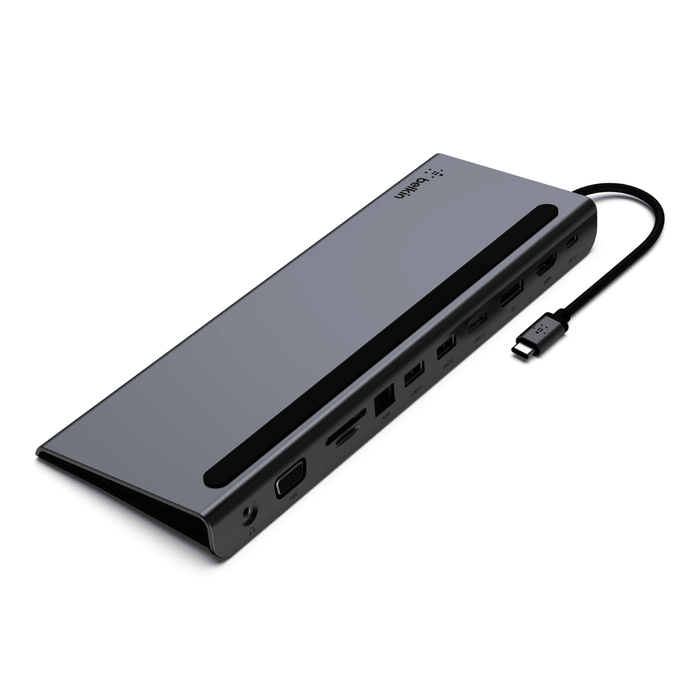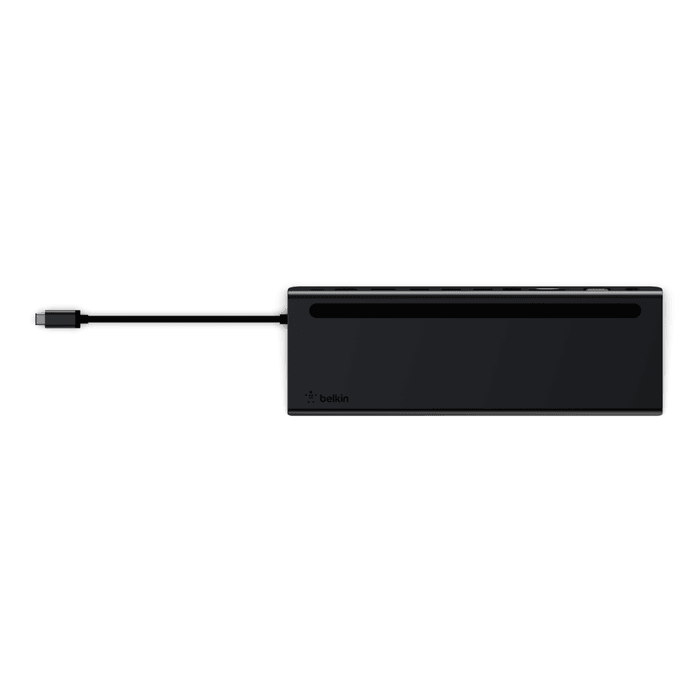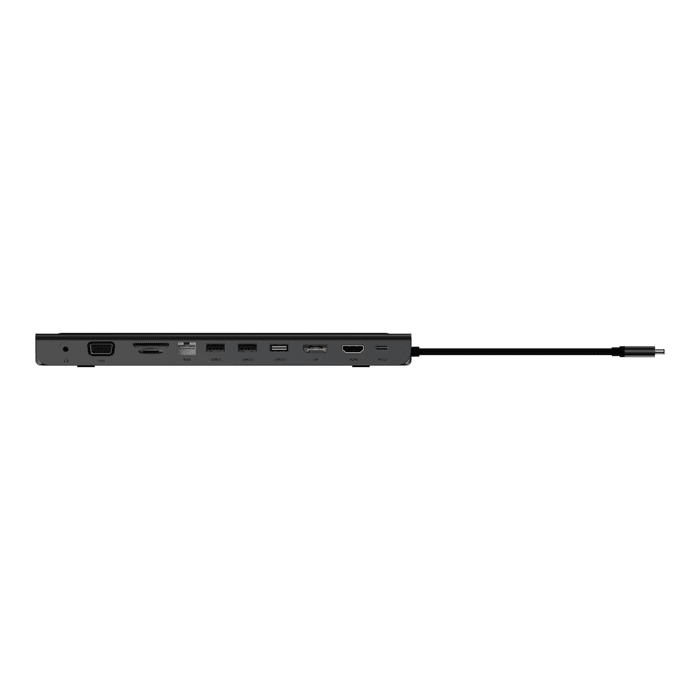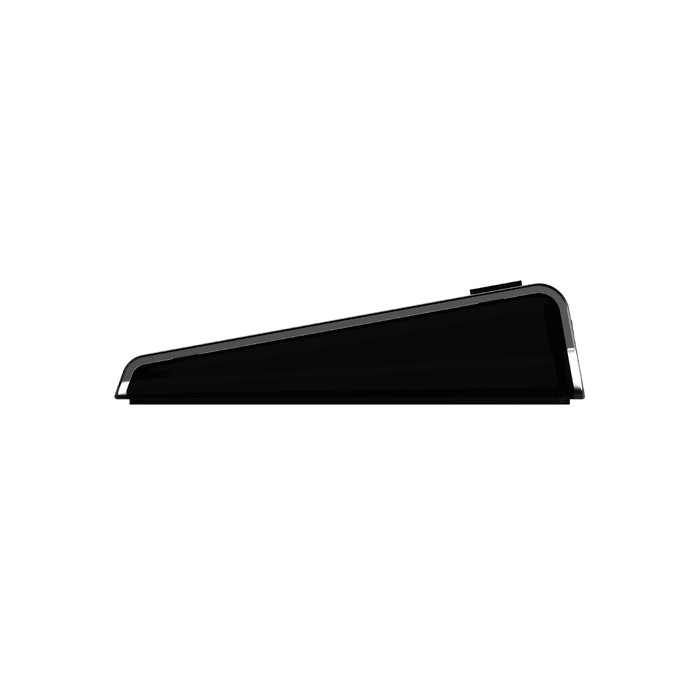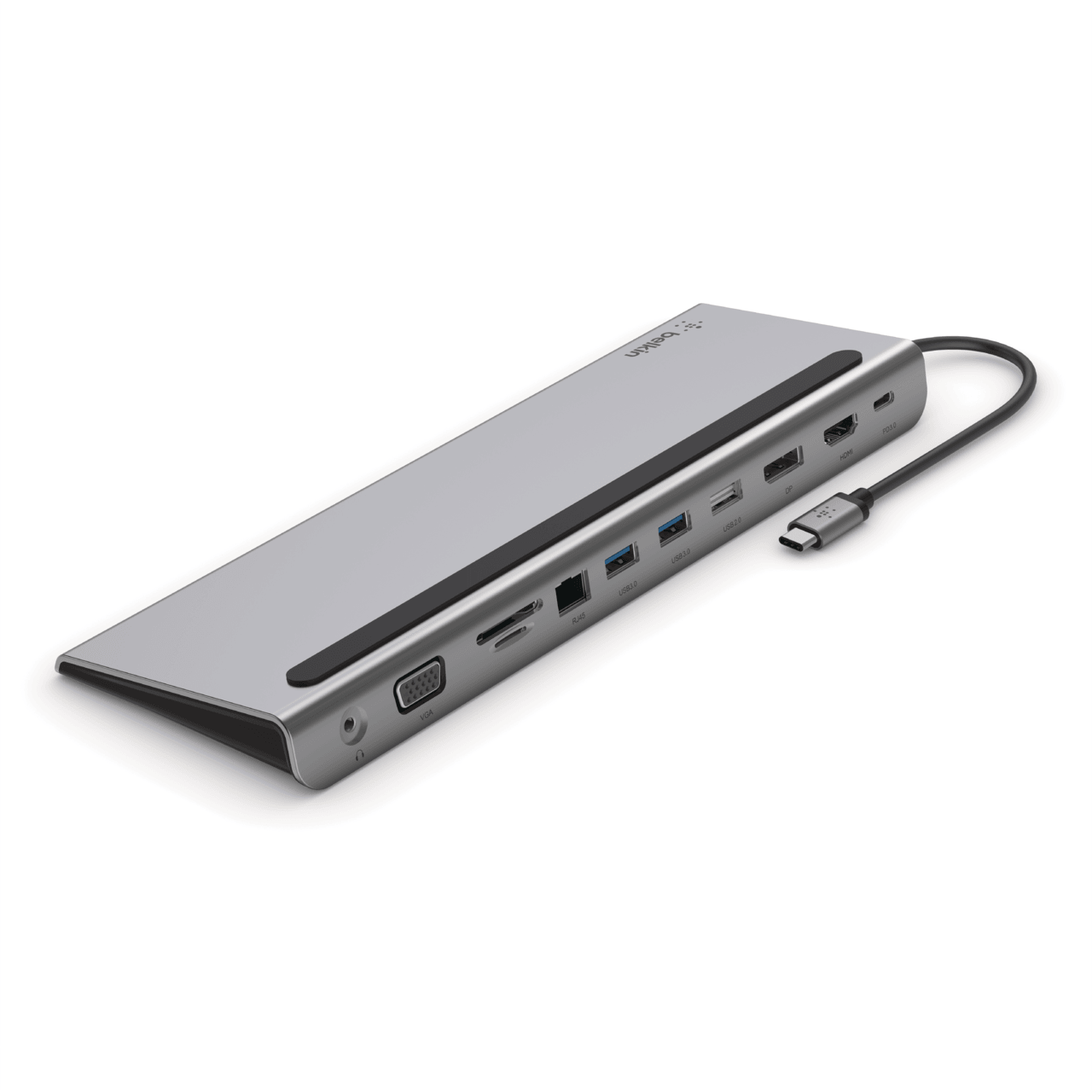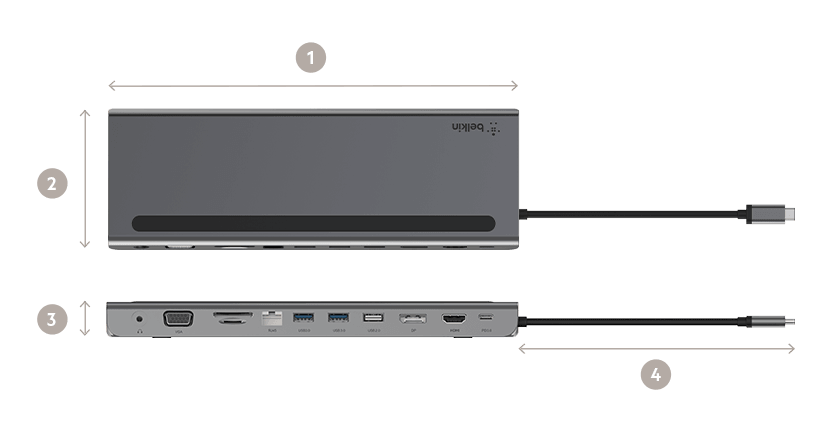 Belkin USB-C 11-in-1 Multiport Dock