SKU:

ZX10(Z2A7BXWF53BX)

Vendor: Getac
Getac ZX10, Android 10, 6GB RAM, 128GB SSD, 2x STD Batteries, WIFI + BT + 4G LTE + Dedicated GPS, 3-Yr Warranty + Accidental Damage
Tax included.
GETAC ZX10 ­ THE FULLY­RUGGED ANDROID TABLET FOR YOUR WORKDAY
The ZX10 10" fully­rugged Android tablet offers an exceptional workday solution that combines intuitive operation and power efficiency with a slim versatile profile.
Features

RUGGED ANDROID VERSATILITY
You asked, we answered. The Getac ZX10 10" is our newest and largest fully­rugged tablet to feature the Android 11 operating system; a highly­capable workday
solution that combines the intuitive operation, power efficiency, and world of apps you expect with Android, with a slim versatile profile, well­suited to video
conferencing, remote guidance, information capture, and online paperwork.

FULL­SHIFT RELIABILITY
With a full­shift battery life as standard, and even optional higher capacity batteries, ZX10 is built to last your entire workday, and even longer with its dual hotswappable batteries changeout without interrupting operation. And with its Qualcomm Snapdragon 660 CPU, you get a true mobile­first computing platform capable
of computationally­intensive tasks with less power consumption.

SUPERB INTERACTIVE EXPERIENCE
The Getac 10" ZX10 enables superb video chat and remote guidance. The 8MP front and 16MP rear camera deliver excellent photos and video capture. Dual
integrated microphones filter out loud background noises such as sirens, power tools, and other machinery. Wi­Fi 5 and dual LTE SIM card slots help keep you
connected.

CONVENIENT VERSATILITY
ZX10 helps you do more in the field in less time. A touchscreen powered by Getac's proprietary LumiBond® technology offers a sunlight­readable experience with
superior color, contrast, and clarity. Read and sign documents in the cold, the rain, or under bright sunlight, via stylus, gloved finger, or bare finger. Capture data,
identify objects, and track assets via the optional RFID scanner and/or optional integrated industrial­grade barcode reader. And with its optional hard­handle with
multi­notch orientation, a variety of strap and harness accessories, and a chassis under one­inch thick, it fits right in.

ENTERPRISE­GRADE MANAGEMENT
With ZX10, IT administrators can save time through batch configuration of device and system settings across your deployment, including those for battery­charging,
display, navigation, scanning, the quick settings panel, date and time, app update, and its four programmable buttons, via OEMConfig or Getac's optional proprietary
deployXpress Cloud software.

ANDROID ENTERPRISE RECOMMENDED
The ZX10 is powered by the Android™ 11 operating system and is verified by Google™ as an Android Enterprise Recommended Rugged Device. Getac's
sophisticated technology and rugged devices – combined with the Android Enterprise Recommended verification – makes it even easier to scale and support your
mobile fleet. Standardized features let you manage devices seamlessly and consistently every time. In addition, its familiar interface makes the tablet easy to use
while also providing access to millions of existing apps on the Google Play store. Get the job done right the first time with Getac and the power of Android in the palm
of your hand.

BUILT­TO­SURVIVE™
Getac manufactures rugged tablets down to the chassis. The ZX10 was engineered to survive drops, shocks, rain, vibration, dust, liquid and more. IP66­certified, the
ZX10 can be operated safely in the presence rain or high­pressure water jets. It is certified to a MIL­STD 810H, 6­ft drop rating, and can operate in extreme
temperatures from ­29°C to 63°C (­20°F to 145°F).
Specifications


| | |
| --- | --- |
| IP Rating/Medical Device Classification | MIL-STD-810H certified, IP66 certified, Vibration & 6 feet (1.8m) drop resistant |
| Memory | 6GB LPDDR4 |
| Operating System | Android™ 11.0 |
| Processor | Qualcomm® Snapdragon™ 660, Octa-core 1.95GHz Max. 2.2GHz |
| Product Type | Ruggedised Tablet |
| Storage Capacity | 128GB eMMC |
| Warranty | 3 Years Bumper-to-Bumper |
| Communication Interface | Wi-Fi 802.11 a/b/g/n/ac, Bluetooth (v5.0), Dual Micro SIM, Dedicated GPS |
| Device Button | Power button, 4 tablet programmable buttons |
| Dimension (W x D x H) | 275 x 192 x 17.9mm |
| Display | 10.1" TFT LCD WUXGA (1920 x 1200) Protection film 800 nits LumiBond® display with Getac sunlight readable technology Capacitive multi-touch screen |
| I/O Interface | 8M pixels webcam x 1, 16M pixels auto focus rear camera x 1, Audio in/out combo x 1, DC in Jack x 1, USB 3.2 Gen 1 Type-C w/ DP & PD x 1, USB 2.0 (Host) x 1, MicroSD x 1, Docking connector x 1 |
| Pointing Device | Touchscreen - Capacitive multi-touch screen |
| Power | AC adapter (65W, 100-240VAC, 50/60Hz), Li-ion battery(3.84V,typical 4990mAh;min. 4870mAh)x 2, LifeSupport™ battery swappable technology |
| Security Feature | Kensington lock |
| VGA Controller | Qualcomm® Adreno™ 512 GPU |
| Weight | 1.04kg |
View full details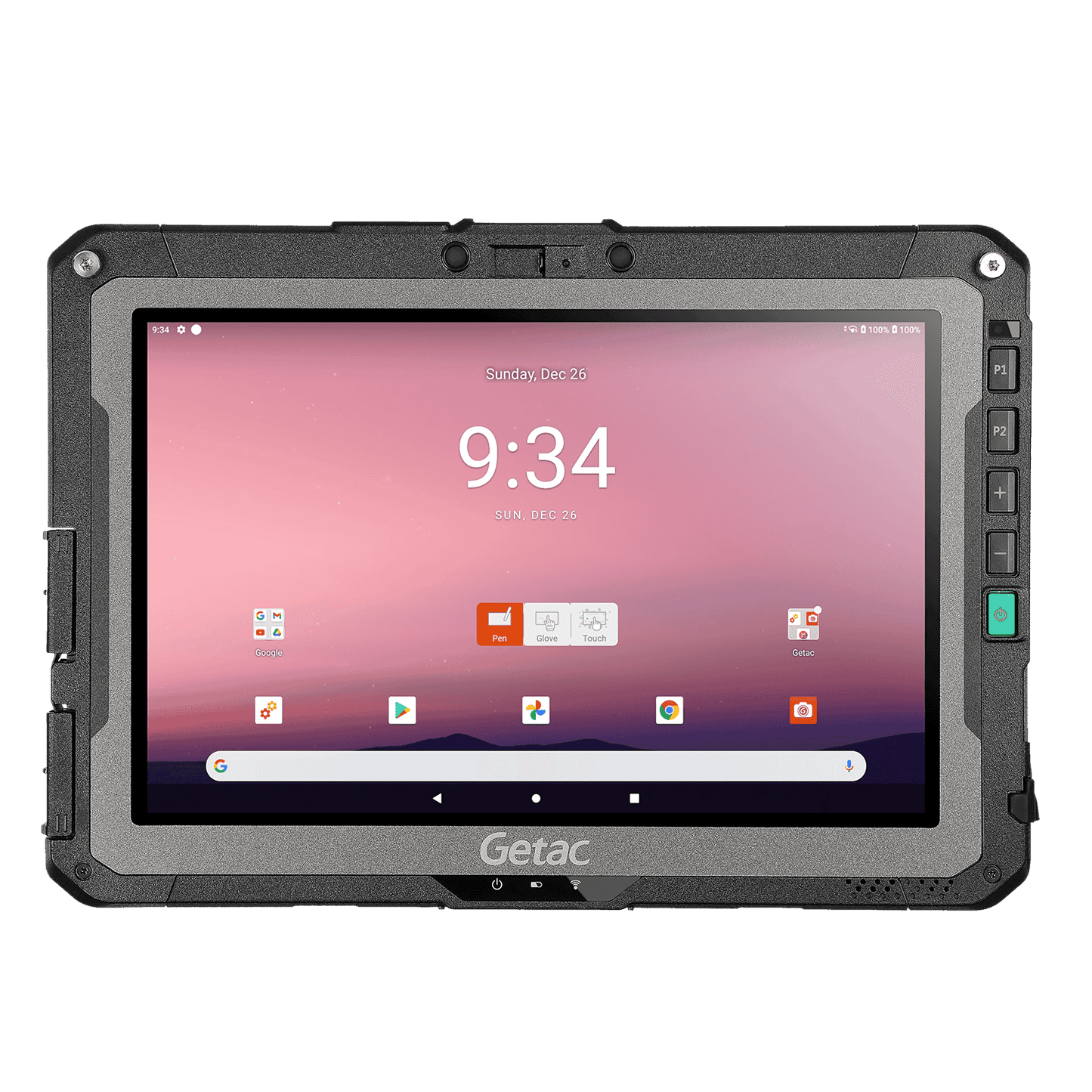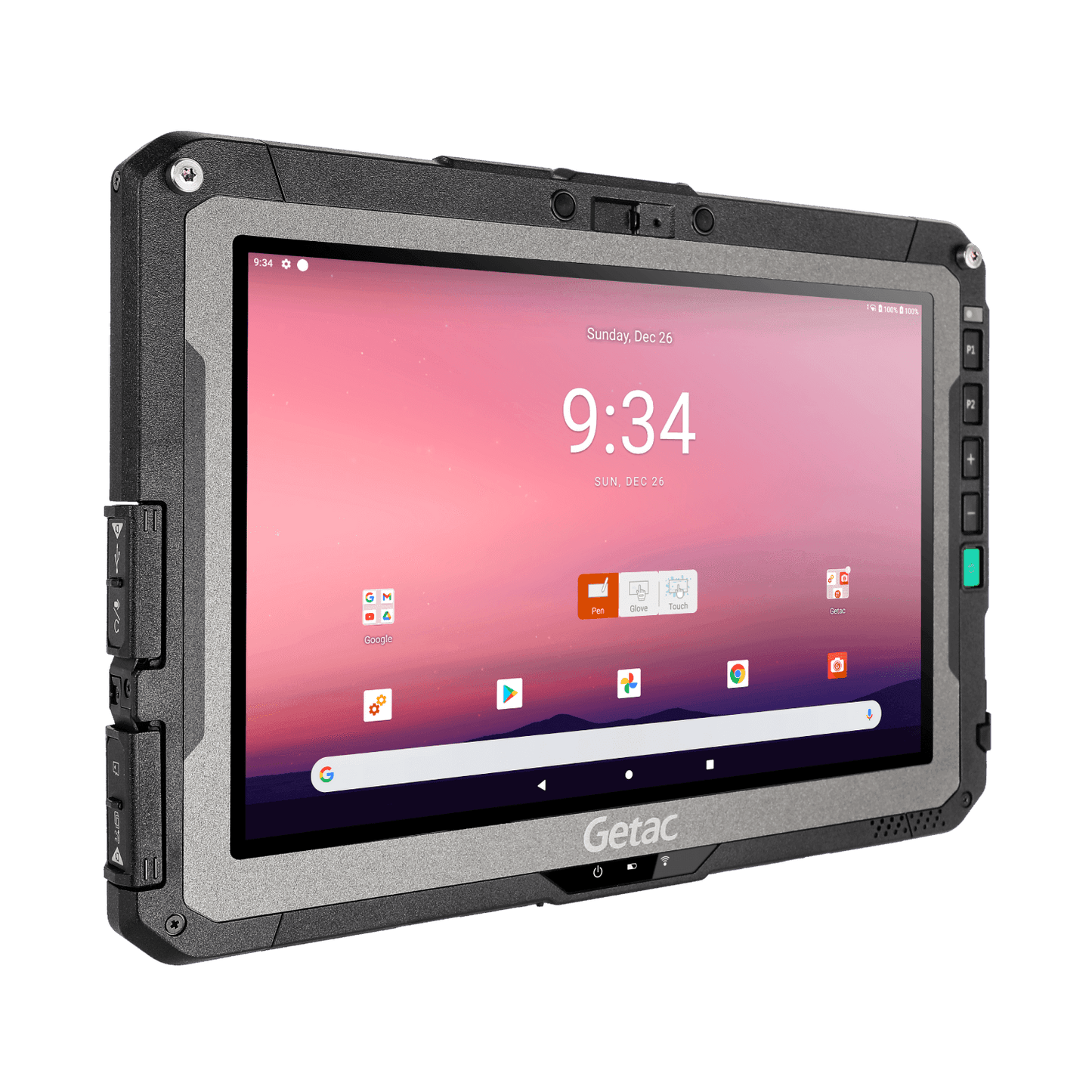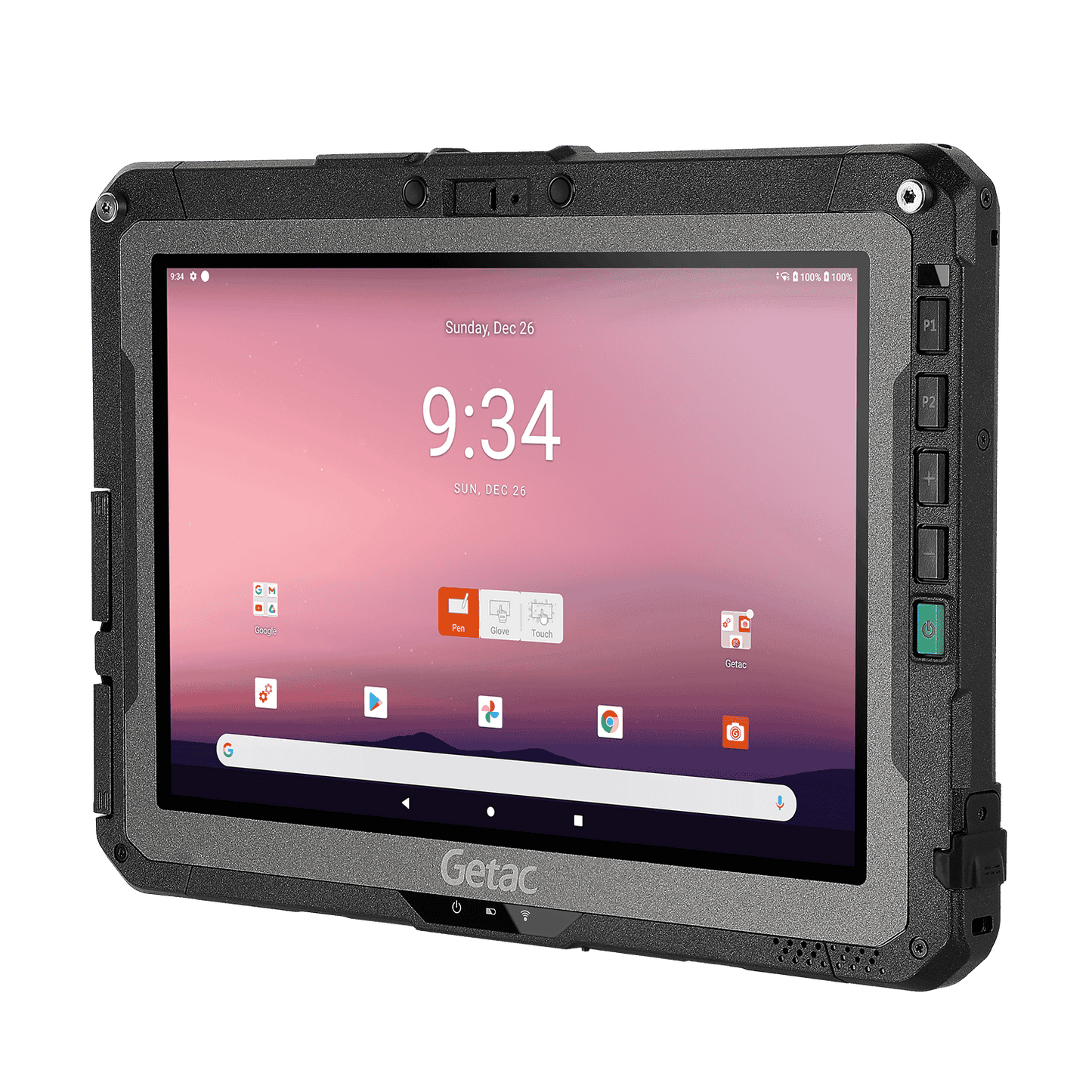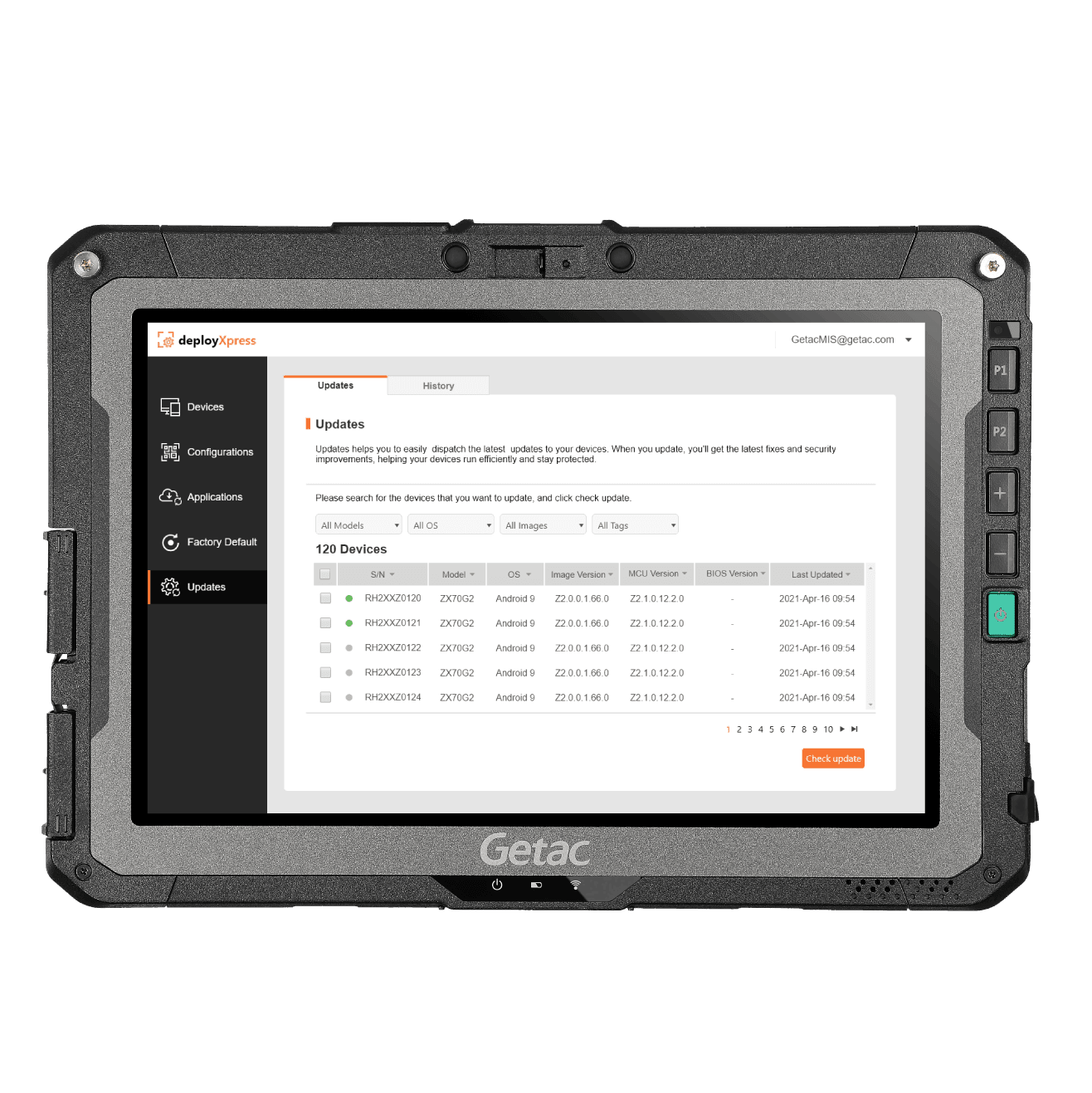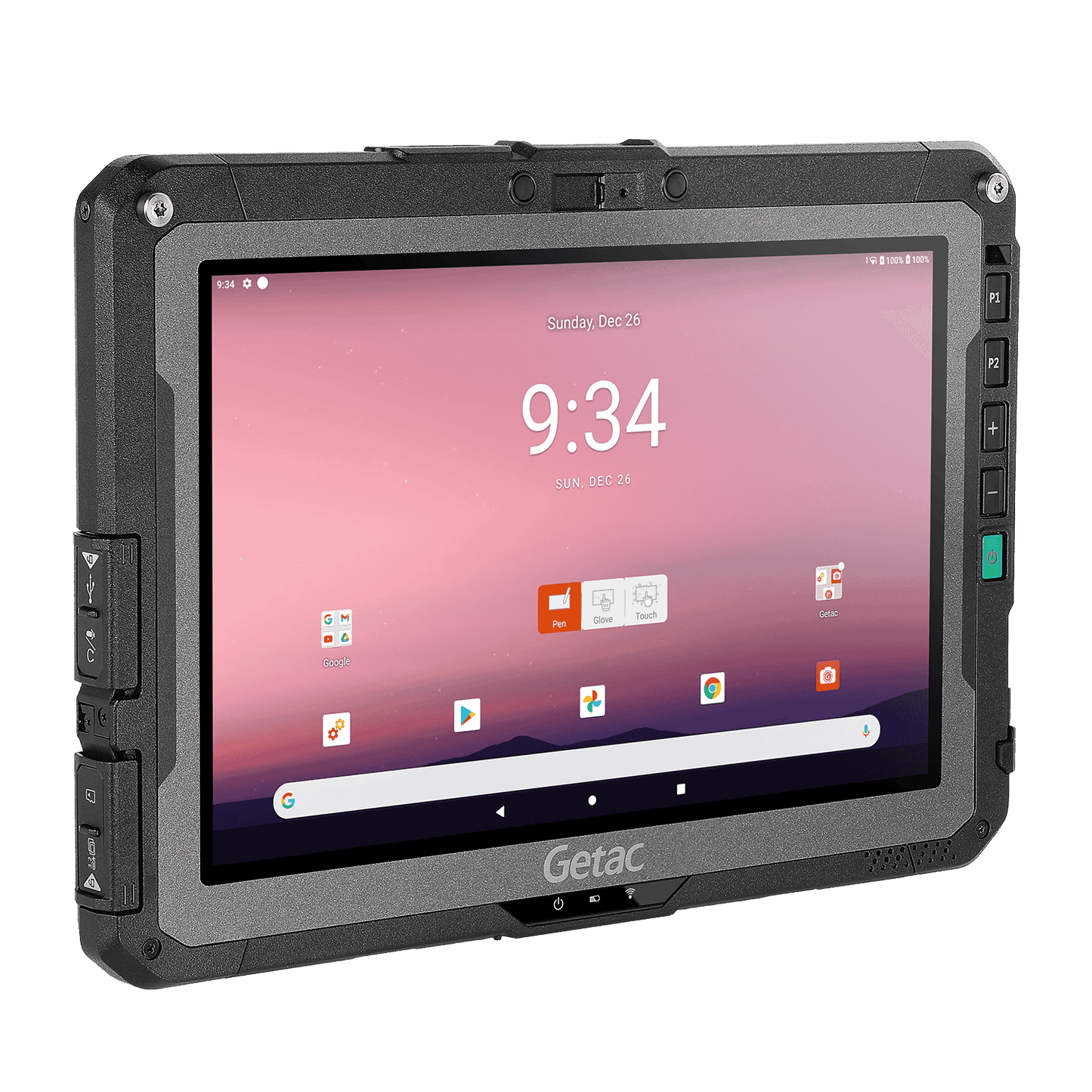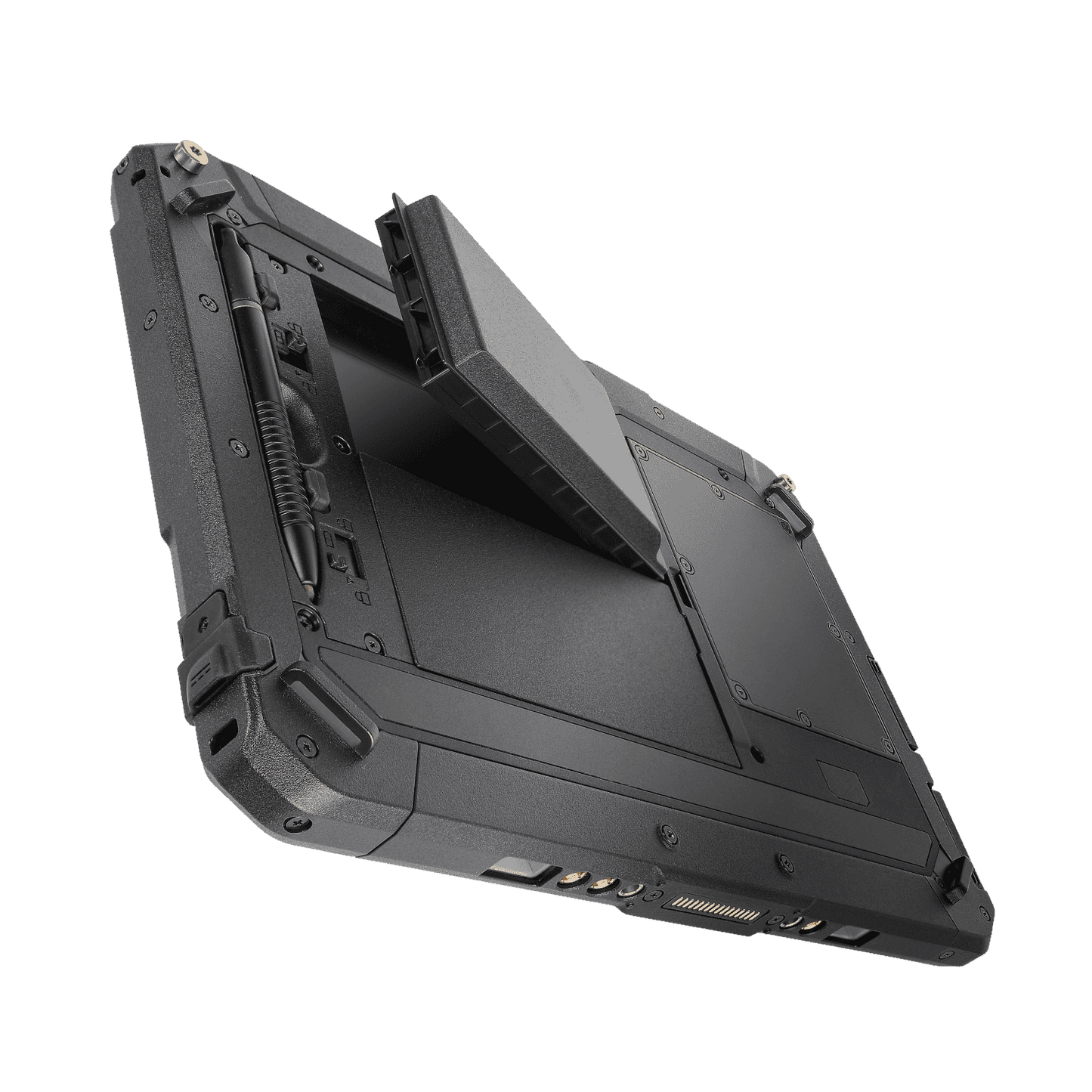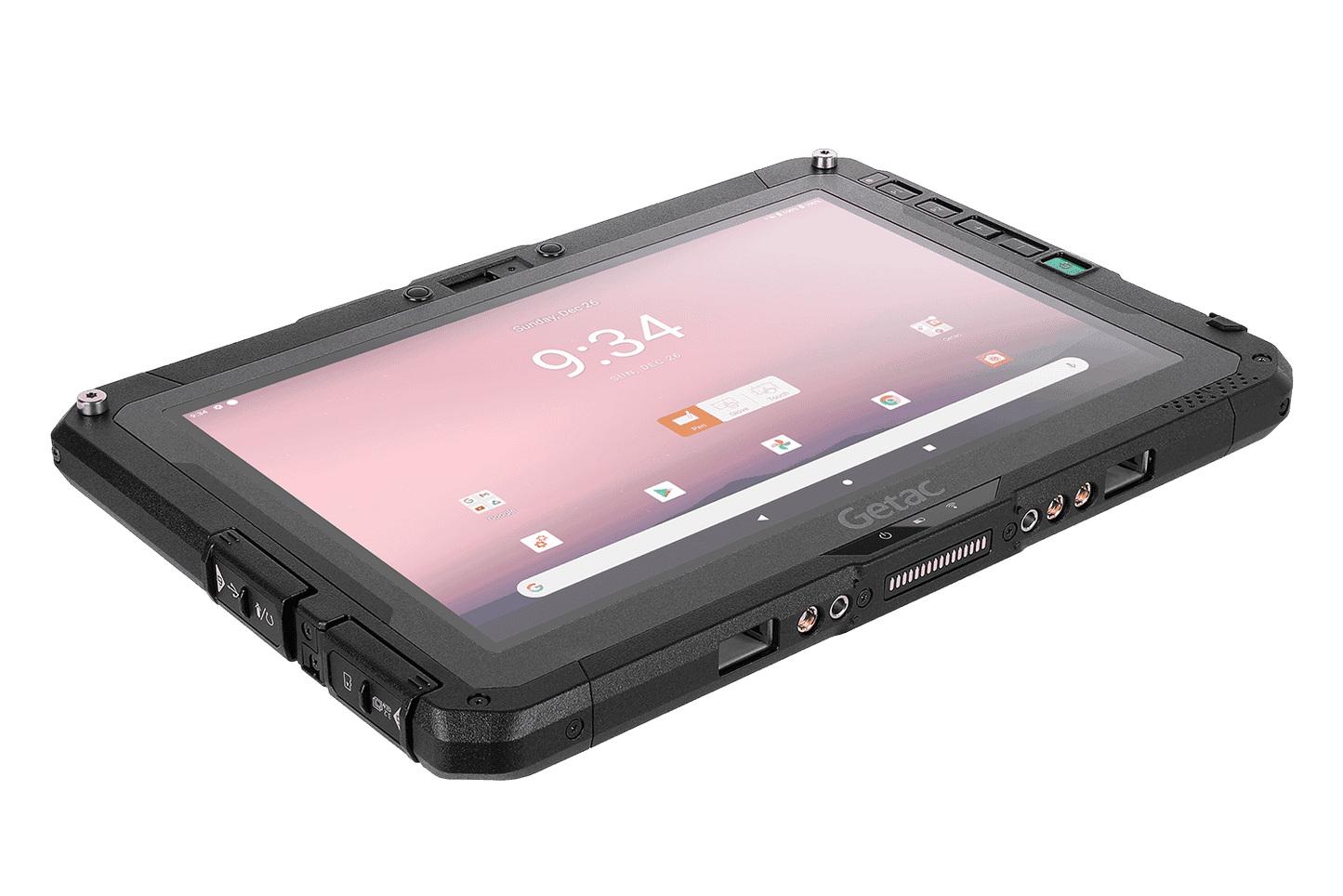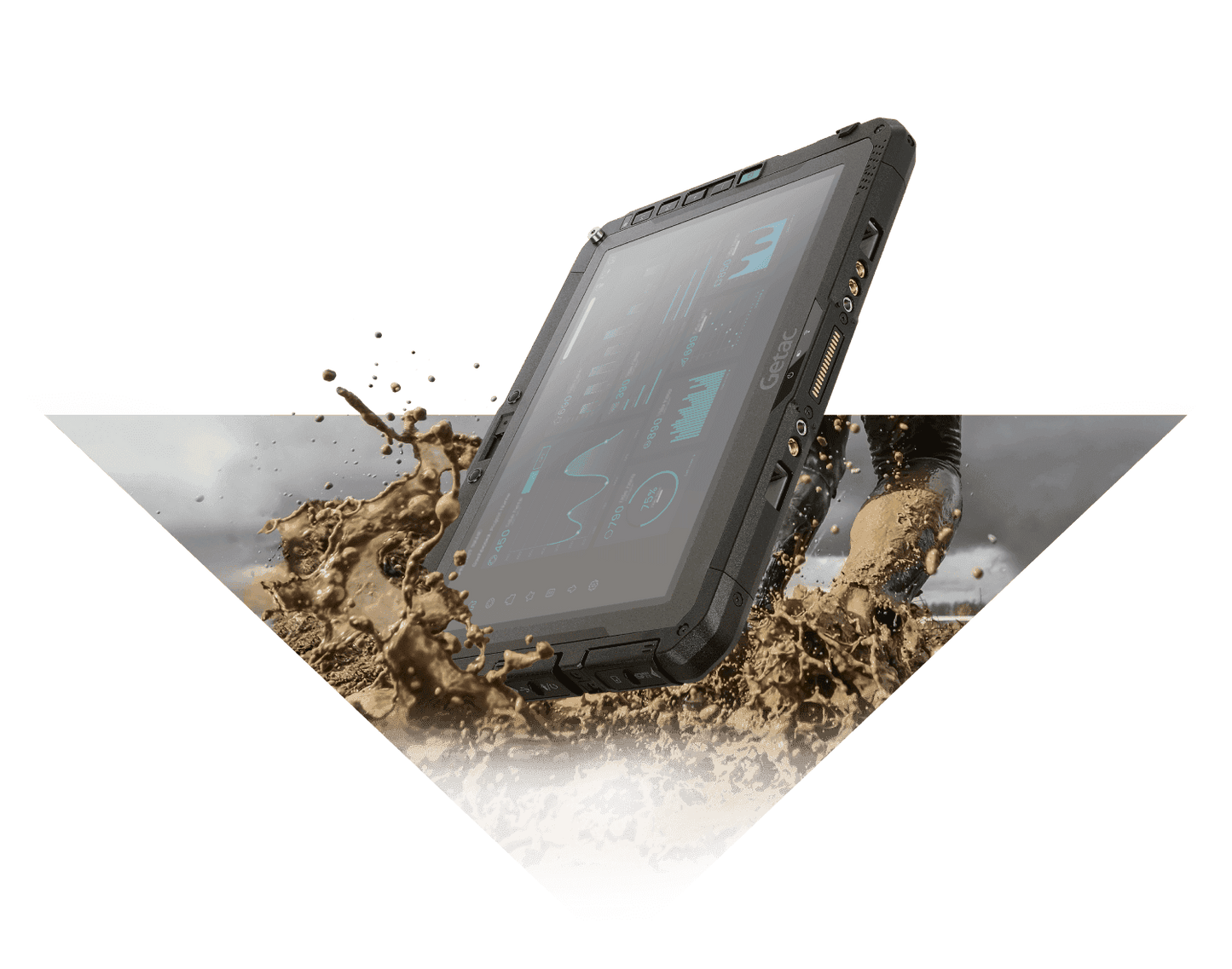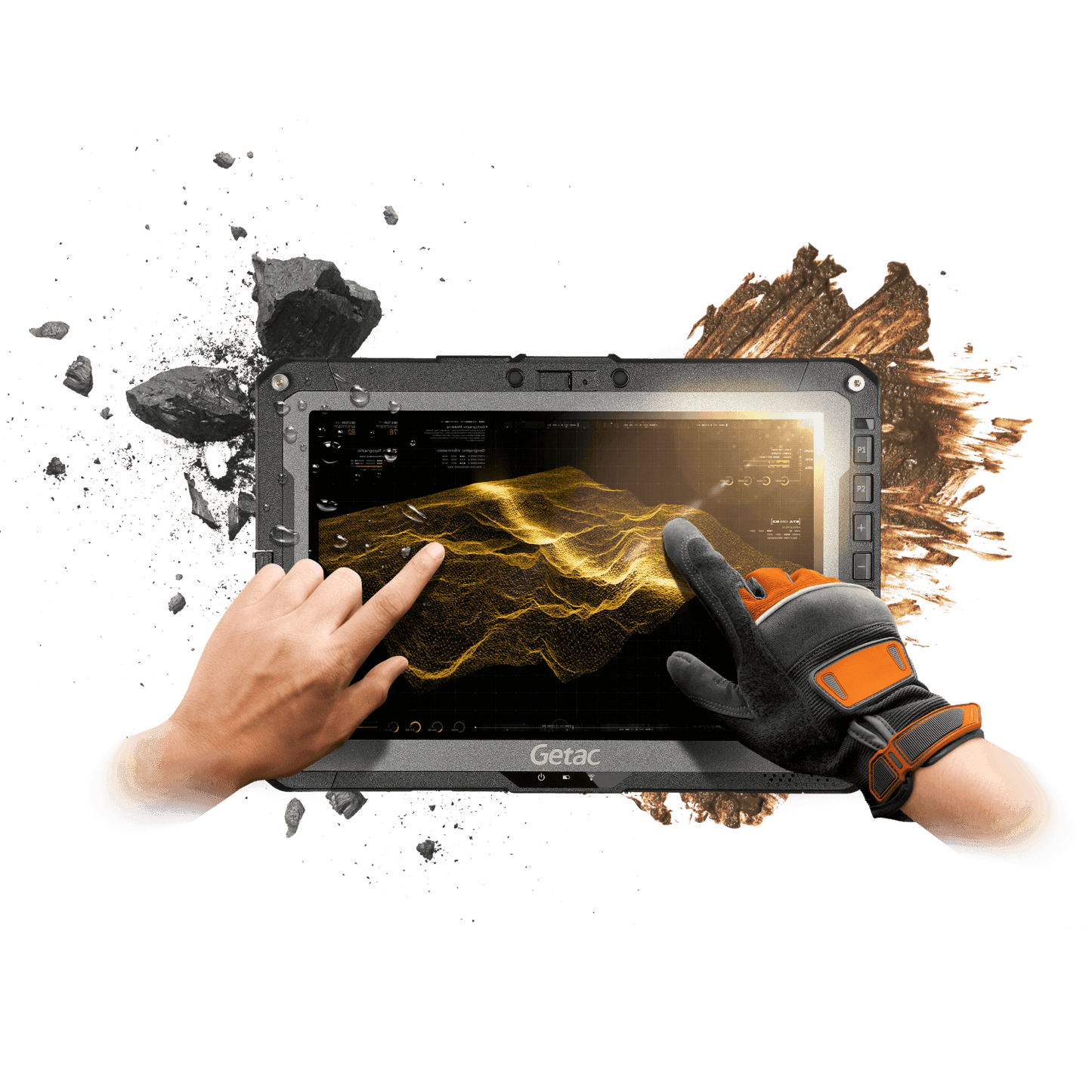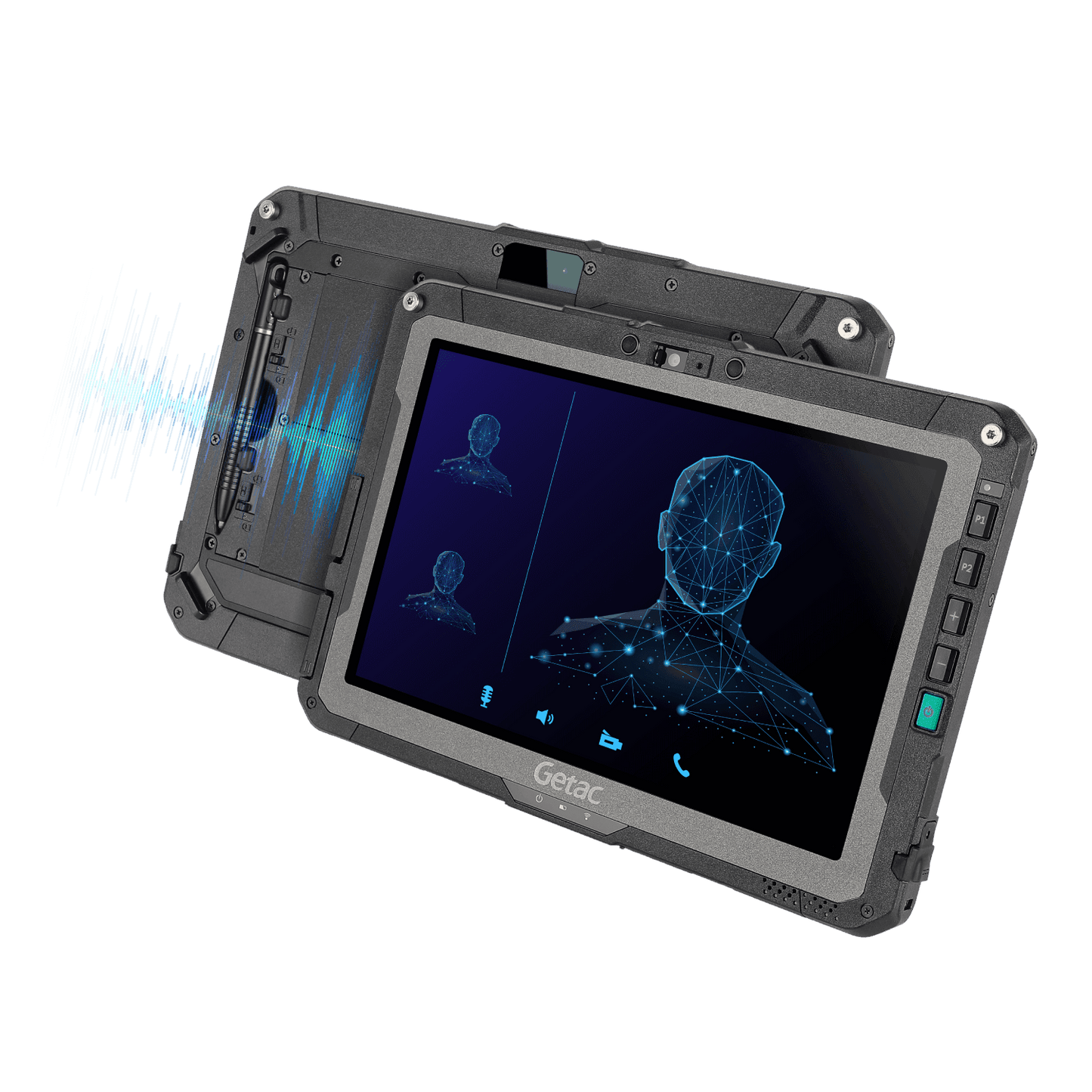 Getac ZX10, Android 10, 6GB RAM, 128GB SSD, 2x STD Batteries, WIFI + BT + 4G LTE + Dedicated GPS, 3-Yr Warranty + Accidental Damage